It's Halloween season, and this week we kick off our four-week October Fear Series. For many people, fear holds them back from turning their part-time selling into a full-time income. In this episode, we address how you can overcome your fear of going too deep on an inventory item.
Stephen and Rebecca take us through what it means to "go too deep" and how it affects your profit margin and turnover time. We break down where your investment should go and why it's important to diversify your inventory. Stephen shares key tools he uses to predict demand and discusses the trade-off between buying lots of cheaper items versus a few expensive ones.
Listen today to learn how to check out your competitors and how location and timing are key in your risk analysis. Using their own experience, Rebecca and Stephen help break down our fears and build our confidence in this must-hear episode!
Listen on the podcast player below.

Like what you hear? Tell a friend… and be sure to leave us a rating and a review. Here's how.
Key points from Episode 104:
Find out what it means to be fearful of going too deep on a buy.
Why you want to maintain a fast turnover.
Breaking down your finances: how much to put into inventory.
How diversifying your inventory spread can benefit you.
Why only today's sales rank is not enough information to make a smart sourcing decision.
Using Keepa and the Full-Time FBA sales rank chart to look at the sales rank history.
Two things to look at when checking your competition when deciding to go deep on a buy.
How the buy cost impacts the amount of inventory you can buy.
Learn why source location affects your profit margin.
When timing affects your buy: discover how to predict seasonal demand.

And more!
Links and resources mentioned in this episode:
Right-click here and save as to download this episode to your computer.
More Episodes from the Full-Time FBA Show podcast:
Don't miss an upcoming episode! Subscribe, download episodes, and review the Full-Time FBA Show:

The Reseller's Guide to Keepa
Have you heard about Keepa? It's a tool (with both a free and a paid plan) that can dramatically lower the risk of sourcing inventory items that end up tanking in price. I'm sure you know how it feels to buy an item expecting it to sell for a high price only to see the price tank soon after you send it to Amazon. With using Keepa the right way, you can protect yourself from that happening!
Basically, Keepa tracks the vital data on almost every item on Amazon. It can quickly show me the sales rank history, pricing history, buy box price history, used item history, Amazon in stock history, competitors' stock levels, and so much more. With Keepa, I can easily look at the data from the past and better know what to expect in the future when it comes to price and sales velocity.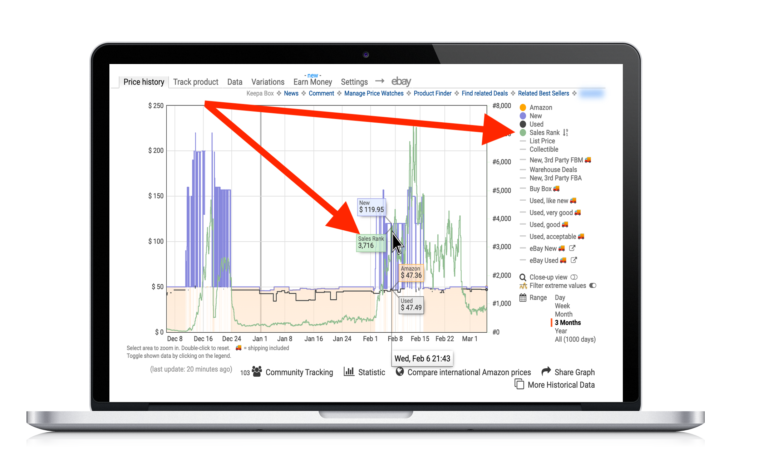 To find out everything there is to know about using Keepa to make smart sourcing decisions, be sure to check out our course, The Reseller's Guide to Keepa: Using Amazon Sales History to Make Smart Sourcing Decisions.
With this course, you'll make more confident sourcing decisions, better pricing decisions, and you'll grow your Amazon business to the next level by selling your inventory faster and at higher prices!

Back to the main page for The Full-Time FBA Show

Episode 104 Transcript: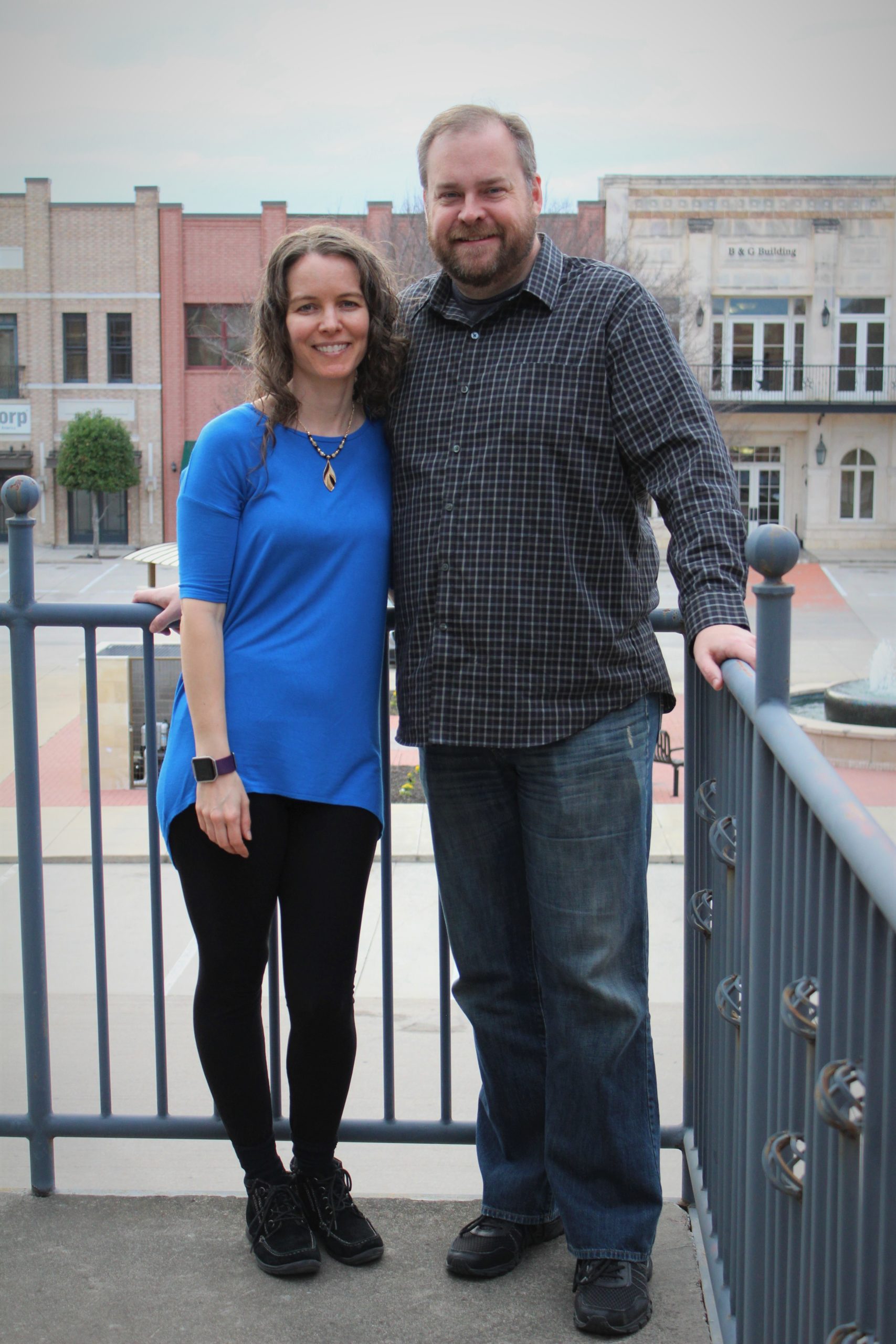 [WELCOME]
[0:00:01.8] STEPHEN: Welcome to The Full-Time FBA Show. Before we jump into the theme song, I just want to remind you, it's October and that means we are jumping into our four-week Fear Series, helping you overcome certain fears for your Amazon FBA business. We kind of have a little fun again with our theme song, making it a little spooky because it's almost Halloween and let's get over some of our fears and hey, hit the theme song.
[0:00:21.0] ANNOUNCER: Welcome to The Full-Time FBA Show. In each episode, it's our goal to help you turn part-time hours into a full-time income, selling almost anything on Amazon. Now, your hosts of the show, Stephen and Rebecca Smotherman.
[INTRODUCTION]
[0:00:39.1] STEPHEN: Welcome to episode number 104 of the Full-Time FBA Show. Today, we're going to be getting into our October Fear Series. Helping you overcome some of your fears to help you grow in your Amazon business. Today, we're going to be discussing overcoming the fear of going too deep on a purchase and to talk about it with me is my wife, who I've got a very much deep love for, Rebecca. How are you doing, Rebecca?
[0:01:02.1] REBECCA: I'm doing great. You don't fear me, do you?
[0:01:04.1] STEPHEN: No, I don't fear you.
[0:01:05.1] REBECCA: I thought you were going to say that, I'm so glad to know it was deep love and not, "Who I have a fear of."
[0:01:09.1] STEPHEN: A deep fear. No, I got a deep love for you but you know, when we're talking about going deep on an Amazon purchase, trying to resell stuff. That means you're fearful of buying too many of an item. You find an item, a whole shelf full of items that you want to get and you're like, "How many do I get? I don't want to go too deep and waste money". We're going to discuss that on today's episode of the Full-Time FBA Show.
[CONVERSATION]
[0:01:34.2] REBECCA: All right, let's get going on this topic. My first question for you Stephen, you already kind of touched on this in the introduction but what does it mean when the seller says, I don't want to go too deep on a buy.
[0:01:43.0] STEPHEN: Yeah, just basically means that you don't want to buy too many, you don't want to put way too much money into inventory and end up having that inventory stay at an Amazon warehouse for a long time not selling. The goal of a successful Amazon seller should be to send in inventory that sells quickly. And so, we want fast turnover and so if you go too deep, you might have way too much money that sits at an Amazon warehouse not being sold and that's not a good idea on how to turn a profit quickly. You put too much money into inventory and it's not selling, that's going too deep.
[0:02:16.1] REBECCA: What is the first thing a seller should be thinking about during the buying process if they're trying to decide how deep should they go on a buy?
[0:02:22.1] STEPHEN: Yeah, there are several things that we need to think about. The first one is, how much capital do you have to invest, how much money do you have? A lot of people, maybe they get their disbursements every two weeks or so and so they put some of their disbursements towards a profit for themselves to take home. Some of it goes towards services, some of it goes towards this or that.
Well, a big part of it is going to go to inventory. How much money do you have to invest in inventory for the next two weeks before you get paid again? You figured out how much that is and you don't want to spend all your capital at once. You want to make sure that you have it diversified, you want it to have your inventory spread out over different inventory items and so, putting too much money into one product might not be the best thing.
Now, of course, you might find that in certain situations, it might be but you want to make sure that the percentage of capital that you have to invest in inventory is not just thrown into one big purchase.
[0:03:18.1] REBECCA: That makes a lot of sense. Another factor that I know probably every reseller knows to take into account when they're making a decision is sales rank. When they're thinking about items that they're going to buy, they look at the sales rank of those items. How much does the sales rank impact the decision on how deep to go on buying an item?
[0:03:36.1] STEPHEN: Sales rank is important but not just today's sales rank. Most people, when they're outsourcing, they might just look at what today's sales rank is. And today's sales rank is just a snapshot in time. Amazon updates the sales rank numbers for every item on Amazon, every hour, so that means, 24 hours a day, 24 times a day, that sales rank number is going to change, it's going to update for most items on Amazon.
You want to make sure that you look at the sales rank over a long period of time. I usually like to look at the 90-day average. That's one of the things I love about Keepa. Keepa is a tool that tracks pricing history and sales rank history and you can go as far back into the past of a product that Keepa's been tracking that sales rank and you can see what's been the last 90 days, you can even look further than that.
If an item's been on Amazon for seven years, you can even look back that far at the Keepa data to see what the sales rank averages have been over a long period of time. You can see, "Okay, the last 90 days, it's been a pretty consistent sales rank and the sales rank is good", in comparison with other sales rank items in that particular category. That's also why we put together a free sales rank chart which gives you an idea of what a sales rank is in comparison to the rest of the rest of the category.
Because for example, a sales rank of 500,000 might be good in books, but it's going to be slow in toys. And so, you kind of want to get that idea so we have a sales rank chart. You can go to fulltimefba.com/salesrank to get that, to kind of get an idea of that but when you're thinking about going deep, you want to make sure that at least the 90-day average has a consistent sales rank that shows that this item is consistently selling.
[0:05:09.1] REBECCA: Okay, talk for a minute next about how the number of other sellers that are selling an item might impact your decision for how deep to go on that purchase.
[0:05:17.2] STEPHEN: Yeah. I mean, you know what? If there's no one else selling that item, you're going to be the only seller and you're going to be literally the only one getting the sales. But that hardly ever happens. You need to look at two things, you need to look at the number of other sellers that are selling on that particular item. But then you also need to look a little deeper and see how many items those sellers have in stock.
You can, just with your eyes go through and look at the other sellers, selling that particular item on an Amazon product page or you can use a Keepa graph. There is a place where you can click more historical data to see for a particular item on Amazon and it will tell you the current number of other sellers selling that particular item in new or used or collectable condition.
You can see, there's 30 other sellers selling this particular item. You know that each seller has at least one in stock so you want to think, "How many sales is this item getting and if I try to purchase some, how many sales can I expect?". And if there's 30 other sellers then that's something to think about. Maybe there's four other sellers and you think, "Oh hey, I can probably join this and go as deep as I want, there's only four other sellers".
But you also want to see how many inventory items that particular seller has in stock because that seller might have 50 in stock or two in stock and it makes a big difference on how deep you will decide to go. Keepa has a really great Chrome extension that will show you how many inventory items a particular seller will have in stock out a certain time. And so, it helps gives you an idea of how many they have in stocks so you know how much competition you're going against and you just make a wise decision based off of those numbers.
[0:06:47.5] REBECCA: I know we already talked about looking at how much capital you have to invest at a given time to factor into how much of an item you're going to buy. But what about the buy cost per unit of the item, how would that impact your buying decision?
[0:07:02.1] STEPHEN: Well, there is something to think about when you are looking at the buy cost. I mean, say you have an item that you buy for $5 and that you can go 20. You are buying a $5 item 20 times, that is $100 when there might be a $100 item that you just buy once. So, you are investing the same amount of inventory but it is different on how deep you are going. And so, the higher your buy cost, the fewer number of items you're going to be able to buy.
The more risk that's involved if the higher priced item begins to start tanking, you just have one of those items in stock and there is a risk there. But if you are able to purchase items that are lower cost and go deeper on those and then you being worried about losing profits because the competition sells out or whatever. The bottom line is, the more money you spend on the inventory means the less money you're going to have for other inventory opportunities.
Buying a $100 items, just purchasing one of those might be going too deep if it is not a good decision. Just decide how you want to spend your inventory money and make a good decision so you still have more spending capital for the rest of your time before you get your payout.
[0:08:08.1] REBECCA: Okay, so what's one final thing that you think that sellers should know and think about before making a decision on going deep on an item?
[0:08:16.0] STEPHEN: One other thing that you definitely need to be thinking about is when and where you are buying these items, you are sourcing these items. I mean, is this going to be a store-wide clearance sale? You are buying these inventory items on clearance at your local Walmart yet, every other Walmart across the country is also clearancing out these items. Maybe the market is about to be flooded with this particular item that you are wanting to buy at Walmart clearance and sell on Amazon.
I mean that's what happens a lot of times especially like after Christmas. After Christmas there is a lot of toys that go on clearance that weren't purchased and the market on Amazon is flooded. And of course, if you look at supply and demand, you know it looks good at one point because of the Christmas selling season but that demand goes down after Christmas, but the supply goes up because everyone is sourcing these clearance priced items.
If supply and demand don't match up you are going to have tanking prices, which are prices are going to go down and you're not going to have those profits. So, think about that when you are sourcing. Same thing with end of summer clearance sales. A lot of places are getting rid of certain items and clearancing them out to get ready for the new fall items that come out and so just be aware of the time of year when you're purchasing your items.
Just look at the trends on Keepa graph to kind of see what you could expect. Another great thing about Keepa, you can look years in the past and can kind of see if an item has been around that long what the trends are depending on the seasons of the year and can make a good decision based on what sourcing capital you have, the time of year and what you're able to do with your sourcing capital to make some good money on Amazon and not go too deep and buy the right amount of inventory items.
The bottom line is that you're not always going to avoid going deep on a purchase. There is going to be times where you buy too many. There is going to be times where you don't buy enough and you're kicking yourself for not buying. You know, we learned from those mistakes. We try to grow from those mistakes so that we can do better next time and that is what will happen. You're going to better next time so we learn from that.
The longer we sell on Amazon, the better we get at the skill of knowing exactly how many items to purchase without going too deep or not buying enough.
[0:10:18.2] REBECCA: Yeah, I know that's been the case for us. I can look back years ago at times, I mean I can still remember specific items in the past, years past that I was like, "Wow, that was a lesson-learning experience of buying way too many of that particular item". But it helped me to learn a lesson and now I have some skills that I can use to make better buying decisions when I am looking at inventory that I could possibly go deep on.
[0:10:41.2] STEPHEN: Hopefully this episode has been helpful for you to overcome your fear of going too deep on a purchase and that maybe next time you can make a better sourcing decision. And if not, maybe learn so that the time after that will be even better. It's going to take practice. It is going to take some time but you're going to get better and you're going to start learning how to buy the right amount at the right amount of time.
[CLOSING CONVERSATION]
[0:11:04.9] REBECCA: Well, thank you for joining us for this week's episode. As always, we're so glad you're here with us and you can find the links that were mentioned in this episode as well as the transcript if you would like to look at that in the show notes at fulltimefba.com/104, that's episode 104 for this episode.
[0:11:22.2] STEPHEN: Next week on The Full-Time FBA Show, we're going to continue our October Fear series to help you overcome your fear of an empty cart. Today we talked about going too deep on a purchase, what about the fear of walking into a store and not finding anything? That scares me, I mean and maybe it scares you too but we're going to talk about how to overcome that fear of an empty cart.
[OUTRO]
[0:11:43.1] ANNOUNCER: That is all for this episode of The Full-Time FBA Show. So, head over to fulltimefba.com/podcast, where you will find the show notes and links from this episode. While you're there, subscribe to our newsletter where you'll get several free downloads of our popular and helpful Amazon FBA resources including a free eBook. Now, take action on what you have learned today so you can find success at turning part-time hours into a full-time income with Amazon FBA.
[END]