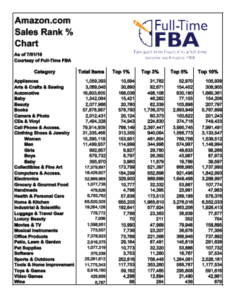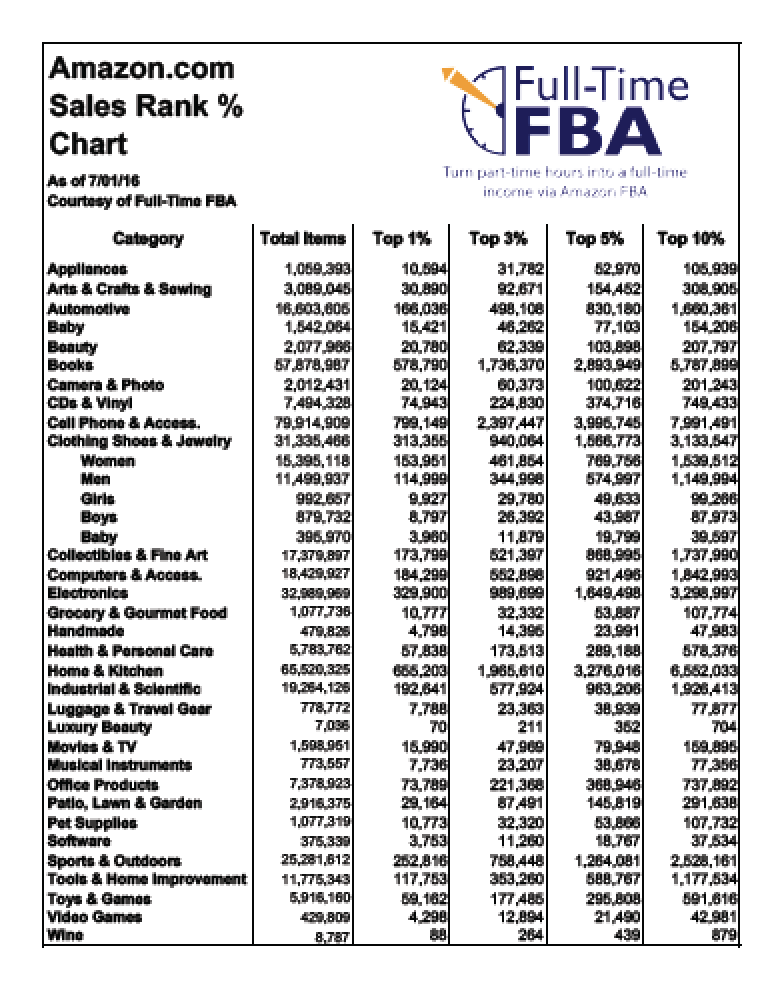 Note: Currently Amazon has a glitch in the way they show the number of items in each category, making it impossible to update the sales rank chart at the moment. This has happened multiple times in the past, and Amazon usually fixes the glitch quickly. Once it's fixed, I can start updating the chart again.
Right now, the chart for January contains the most up-to-date and accurate information possible. Thank you for your patience as we wait on Amazon to fix this glitch. 
UPDATED FOR JANUARY 2018
Thank you for being a valued subscriber to the Full-Time FBA mailing list. Around the first of each month I'll send you the latest Sales Rank Chart so you'll have the most recent numbers to make the best sourcing decision possible.
If you're not a subscriber yet and just stumbled onto this page, be sure you look to the sidebar on the right and subscribe today. That way, you'll be sure to get the updated sales rank charts delivered to your inbox each month.
Click on the Amazon sales rank chart that you want to download. Print it out or save it to your computer. We currently offer a sales rank chart for Amazon.com, Amazon.ca (Canada) and Amazon.co.uk (United Kingdom).
Amazon.com Sales Rank Chart
Amazon.ca (Canada) Sales Rank Chart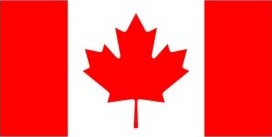 Amazon.co.uk (United Kingdom) Sales Rank Chart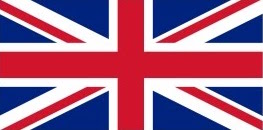 If you want the most up-to-date sales rank chart delivered to your inbox for free every month, click below and subscribe.
Click To Get Your FREE Amazon Sales Rank PDF emailed to you every month

Here is how to finally understand Amazon sales rank! 
Sales rank is easily the most misunderstood aspect of selling on Amazon. What is a good sales rank? What does a sales rank of zero mean? What do I do with sales rank for sub-categories?
Why does sales rank have to be so confusing so much of the time?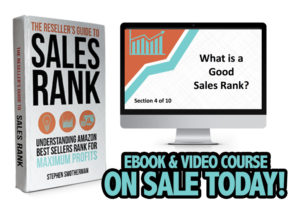 I'm here to tell you it doesn't have to be that way! You can finally get the clarity you need on the issue of understanding Amazon sales rank numbers. We at Full-Time FBA have launched a $14 mini-course called The Reseller's Guide to Sales Rank: Understanding Amazon Best Sellers Rank for Maximum Profits. The mini-course is a combination ebook (30+ pages) and video course (almost 2 hours).
Check out The Reseller's Guide to Sales Rank mini-course to see how you can master the concept of best sellers rank and be on your way toward smarter sourcing decisions for your Amazon FBA business! It's only $14 and comes with a 60 day money back guarantee!