Nobody wants to lose money, but these 7 profit killers are stealing your Amazon FBA profits on a daily basis. In this episode, Rebecca and I talk to you about how you can recognize these profit killers and how to respond so that your Amazon FBA business is protected.
In fact, a few of these profit killers might even be Amazon account killers. We don't want you to lose your account over something you don't even know about, so be sure to listen to this episode of The Full-Time FBA Show.
Listen on the podcast player below.
Like what you hear? Be sure to leave us a rating and a review. Here's how.
Links and resources mentioned in this episode:
Right-click here and save as to download this episode to your computer.
More Episodes from Season One of The Full-Time FBA Show podcast:
Don't miss an upcoming episode! Subscribe, download episodes, and review The Full-Time FBA Show: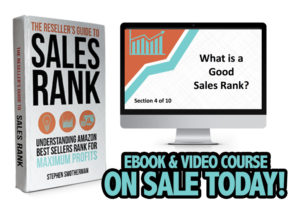 Sales rank is easily the most misunderstood aspect of selling on Amazon. What is a good sales rank? What does a sales rank of zero mean? What do I do with sales rank for sub-categories? Why does sales rank have to be so confusing so much of the time?
I'm here to tell you it doesn't have to be that way! You can finally get the clarity you need on the issue of understanding Amazon sales rank numbers. We at Full-Time FBA have launched a mini-course called The Reseller's Guide to Sales Rank: Understanding Amazon Best Sellers Rank for Maximum Profits. The mini-course is a combination ebook (30+ pages) and video course (almost 2 hours).
Check out The Reseller's Guide to Sales Rank mini-course to see how you can master the concept of best sellers rank and be on your way toward smarter sourcing decisions for your Amazon FBA business!

Back to the main page for The Full-Time FBA Show