Selling on Amazon has never been more exciting and to take us into the new year and new season of the podcast we are bringing you six reasons to be even more optimistic about selling through FBA! We start off the show with a few updates of what you can expect in 2020 from the podcast before diving into our list.
In the podcast, we'll discuss Amazon's growth to the number one online shopping destination, Amazon Prime statistics and customer trust. We'll also take a look at Amazon's capacity for stock, third-party sellers' performance, and active seller numbers on Amazon at present. With so many reasons to be feeling positive about 2020, we cannot wait to share this episode with you, as well as the rest of the great season we have planned. Remember to go join our Facebook group and stay tuned for the next episode!
Listen on the podcast player below. 
Like what you hear? Tell a friend… and be sure to leave us a rating and a review. Here's how.
Key points from episode 15:
How Amazon has now surpassed Google as the most popular first-stop for shopping online.
The growing number of Amazon Prime members and what this means for FBA sellers.
Why Amazon obsesses over customer trust and how this ties into Amazon's success and leads to more sales for you.
'The everything store' and how Amazon fulfills so many needs.
How "third-party sellers are kicking Amazon's butt" in terms of items shipped (and who actually said this).
The number of active sellers on Amazon and some stats around their sales.
And much more!
Links and resources mentioned in this episode:
Right-click here and save as to download this episode to your computer.

More Episodes from The Full-Time FBA Show podcast:
Don't miss an upcoming episode! Subscribe, download episodes, and review The Full-Time FBA Show: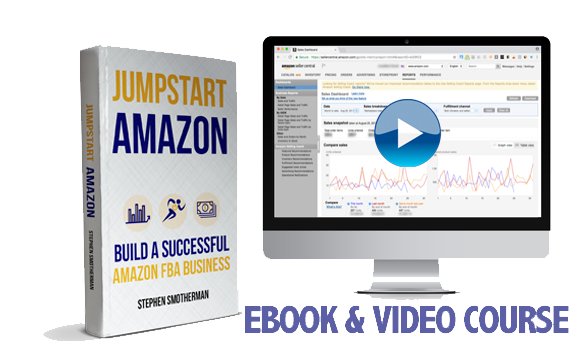 By now you know that running a successful Amazon business takes hard work, but you also want to be sure you spend your time focusing on Amazon FBA strategies that are actually proven to provide the results you're looking for. If you're ready to finally get serious about your Amazon FBA business, then I invite you to check out JumpStart Amazon: Build a Successful Amazon FBA Business.
JumpStart Amazon is a combination video course and ebook. The ebook is over 220 pages filled with the content and graphics you need to start a successful Amazon business from scratch. The video course features 5 main sections, 19 content-packed modules, and over 40 videos adding up to over 10 and a half hours of video training. This training is set up to help you build a solid foundation and then know how to find growth and success on top of the basics. This course is packed with more results-focused knowledge than any other ebook out there centered around starting an Amazon business. Find out more about JumpStart Amazon today.

Back to the main page for The Full-Time FBA Show

Episode 15 Transcript:
[0:00:01.8] ANNOUNCER: Welcome to The Full-Time FBA Show. In each episode, it's our goal to help you turn part time hours into a full-time income, selling almost anything on Amazon. Now, your hosts of the show, Stephen and Rebecca Smotherman.
[0:00:21.3] STEPHEN: Welcome to the Full-time FBA show where it's our goal to help you turn part time hours into a full-time income with Amazon FBA. FBA meaning 'Fulfillment by Amazon' which means Amazon stores all your inventory, ships it to the customer for you, so you don't have a house full of inventory and they take care of customer service and so much more and it's totally possible to make a full-time income with just part time hours on Amazon.
Because I get it, we're busy, maybe you've got a full-time job, a part time job, maybe you've got a house full of kids or maybe you're taking care of aging parents and you need that flexibility to work when you want to, where you want to and Amazon can help you do that and help you make a full-time income. How do I know it's possible? Because I've done it for over a decade and both my wife and I have been able to find that success, turn a part time hours into a full-time income with Amazon.
Who are we? This is your host, Stephen Smotherman and I welcome you to the full-time FBA show and with me as always is my wife, my business partner, my cohost, my best friend Rebecca Smotherman. How are you doing Rebecca?
[0:01:24.1] REBECCA: Hi, I'm the cohost. I don't know if I've ever heard you call me that. I am used to hearing you calling me your wife and your business partner but I'm also your cohost.
[0:01:34.1] STEPHEN: Yes, and my best friend.
[0:01:36.8] REBECCA: I'm used to that too, you do call me that too.
[0:01:39.3] STEPHEN: That is true. We're excited about this show and this season in just a second word, we're going to get into our topic today which is just the incredible opportunity of selling on Amazon FBA in 2020 and why I am so excited about it. I'm going to give you six reasons why you should be excited about the future.
But first, let's talk about what season two of the podcast is going to be. It's 2020 and based on a lot of your feedback that you've given us, we've made some changes and some tweaks and let me let my cohost tell you a little bit about that.
[0:02:08.7] REBECCA: Right, we had our first season in 2019, it was really exciting, we had 14 episodes and we feel like that was just enough time for us to kind of get our feet wet and to figure out kind of what we're doing with this podcast, the direction we want to go and we did get a lot of great feedback from our listeners and so we're trying to make some adjustments with that this year.
Based on those suggestions, we're going to continue with a format of having one show a week during Season 2 but we are not going to take a break for Q4 like we did last year on the podcast, we wound down the podcast as we were getting into the busiest time of year with selling on Amazon in Q4.
But this year, we're going to do it differently and we're going to keep going during Q4. That's one big change and then another change is that we are moving to dropping our podcast episodes on Mondays, last year, we had them on Wednesdays. This year, it's going to be Mondays. Be looking for the new episodes in 2020 coming to you on Mondays, wherever you listen to your podcasts.
[0:03:13.4] STEPHEN: Yup, thank you again for your feedback. If you do want to continue to give us some feedback for the podcast, maybe if you've even have questions that you want focused on during the podcast, you can go to fulltimefba.com/podcast, we'd love to hear from you.
[0:03:30.8] REBECCA: Yup, we're looking forward to bringing you more reseller strategies and stories and just talking with you more about selling on Amazon through the FBA program this year. It is going to be an exciting year. We're you know, already into the first month of selling for this year is in the books and we are looking forward to the next 11 months of 2020 and so we are just excited to talk about what we've experienced so far and what we kind of see on the horizon for this year.
Stephen, why don't you get us started talking about, we've kind of made notes here of six different reasons that we're excited about selling on Amazon in 2020. So get us started with the first one.
[0:04:12.2] STEPHEN: I found some really interesting statistics that had me just totally pumped and jazzed and any other type of synonym I could use to tell you that I'm excited about it. The first one is that, Amazon has just surpassed Google as the number one starting point for online shopping.
Most people used to go to Google to search for something to buy. Now, they go to Amazon more than 50% of the time and more than Google or any other place. I want to be where the shoppers are going, that's Amazon, that's why I'm excited about the future of selling Amazon with you know, Amazon being the number one place people go to find whatever they're looking for.
[0:04:49.8] REBECCA: Yeah, I know that's been the case for me for several years, I've been a Prime member for many years now and I always immediately go to Amazon and it's just always interesting to see when that trend is in my mind, that's where shoppers start but the statistics are showing that that's where it's happening is on Amazon, people are searching more and more on Amazon than anywhere else starting their searches for what they're looking for.
Okay, what's the next thing that you have been thinking about, Stephen, that's exciting about 2020?
[0:05:21.9] STEPHEN: You just mentioned being a Prime member and this brings up this next point that there is an estimated over 100 million Prime members as of 2019 and it's just continued to grow in 2018, there was 95 million prime members. Prime membership just continues to grow year after year and in fact, another interesting statistic is that Prime customers spend over a thousand dollars per year with their Prime membership compared to none prime members who spend about $500 a year.
Prime members, buy more and again, Amazon FBA, that is setup perfectly for Prime members to be able to get their stuff, second day, next day, maybe even same day and again, I want to sell via FBA and it excites me about that.
[0:06:07.9] REBECCA: The importance of that is that when somebody is shopping on Amazon for an item that is available through their Prime membership, our inventory as FBA sellers is what they're looking for. FBA inventory that is already at an FBA warehouse it's at the Amazon warehouse, it's available for the customers to buy with the Prime guarantee of shipping and also easy returns, they can use Amazon's customer service.
That's all compared to 'fulfilled by merchant' inventory which sellers are keeping at their house and it's a different type of customer service, there's really not any guarantee all the time about how long it's going to take for the customer to receive it. The customer just doesn't have the same type of trust with a third party seller who is not an FBA seller selling inventory through the Prime program.
[0:07:02.7] STEPHEN: Yeah, one of the things, the really cool things we learned in 2019, Rebecca and I went to the Amazon Selling Partner Summit in Seattle Washington and they told us that the number one filter that people use on the Amazon seller app is the Prime filter and so that totally eliminates any other non-FBA seller, selling items and they only see FBA sellers. Again, that's why I'm excited about the future because I'm selling via FBA and the customers are looking for our items.
[0:07:31.8] REBECCA: We kind of hinted on this as we were talking about why customers are looking for Prime inventory or items to buy through prime on Amazon. Talk to us a little bit more in your next point Stephen, about why customers trusting Amazon is such a big deal?
[0:07:49.7] STEPHEN: Yeah, the fact is that Amazon is one of the most trusted websites out there. In fact, I found a statistic and don't worry, I'll give you all the sources later and I'll put it in the show notes at fulltimefba.com/15. But customers are 89% more likely to shop at Amazon than any other shopping site online. Why? It's because they trust Amazon, because that Prime membership, because they trust that it's going to arrive when Amazon says it will.
Now of course, every once in a while, something arrives a day late. Hey guess what? If you are a Prime customer and your item arrives a day late, if you contact Amazon Prime, they'll give you a free month of Prime as a way of saying, "I'm so sorry." You can take advantage with that but that's why Amazon is trusted and in fact, another thing we learned at the Amazon Selling Partner Conference is that Jeff Bezos, the CEO of Amazon said that the number one goal in the 20 years of working with Amazon, creating Amazon is earning customer trust.
He said, that's been the most important thing that he's accomplished over the 20 years. More important than Amazon Prime, more important than Alexa, more important than anything else, just earning that customer trust and that leads to more sales.
[0:09:01.0] REBECCA: Yeah and not to go off on too big of a tangent on that but something that comes up quite regularly in our Facebook group and that we've also blogged about it and done a YouTube video about it too, the Amazon return policy is another big reason why customers trust Amazon and I know as sellers, sometimes we get frustrated with Amazon's return policy and how we feel like it is not good for us to receive so many returns because customers can easily return items to Amazon.
But ultimately, we really believe that it is good for us as sellers. It is frustrating to get returns but it is part of any business and customers really trust that it is going to be an easy process to buy something, to get it to them as quickly as they need it and then if it is not what they are looking for or turns out to be the wrong item or they have some other problem with whatever they are receiving, it is easy for them to come to some sort of resolution about returning it or getting a refund.
And that is a good thing. That is a good thing for us as sellers. So that goes along with more along the lines of that customers are trusting Amazon more than any other website and that is great news for us as sellers on Amazon in 2020.
[0:10:14.9] STEPHEN: Absolutely.
[0:10:15.8] REBECCA: Okay, what is your next statistic that you've got written down there?
[0:10:19.1] STEPHEN: So another thing that I found out that was really cool was that Amazon has over half a billion products that they sell and that just blew my mind and it just continues to grow. In fact, there is a book written a few years ago, maybe longer than a few called The Everything Store. It was about Amazon wanting to be the "everything store." In fact, I found that book one time at a thrift store and it was oversized print and that's around the same time that I realized, "Oh I need to readers."
Because yeah, this book is a whole lot easier to read than the other books that are out there but Amazon has almost everything and again, that is why people want to go there. That is why they want to buy, that is why Amazon is the number one place people go because they have almost everything and if you find something that's not on Amazon there is an opportunity for you to fill that need.
[0:11:07.1] REBECCA: Yeah, they don't have everything yet. So that is where we as resellers can come in but half a billion. That is a lot of different items that they have here.
Okay, what is the 5th thing? That was the 4th reason that we have to be excited about selling in 2020. What is the 5th one that you've got there on your list?
[0:11:25.9] STEPHEN: Well this one is specific for third party sellers. Obviously Amazon themselves sells items on Amazon but Amazon opens up to third party sellers, that's me and you, the opportunity to sell on Amazon and in 2019 in a shareholder letter that Jeff Bezos wrote to his shareholders, he said that third party sellers are kicking Amazon's butt when it comes to the number of sales. In fact, in 2019 Amazon shipped out over 4,000 items per minute for third party sellers.
So again that excites me because I am a third party seller if you are selling on Amazon, you are a third party seller and you know we are kicking Amazon's butt according to Jeff Bezos.
[0:12:10.1] REBECCA: That's hard for me to wrap my mind around. 4,000 items a minute. That is a lot of items that are being shipped out that is incredible and that's by yeah, third party sellers. That is crazy.
[0:12:23.4] STEPHEN: Yeah the numbers say that Amazon has sold a 117 billion dollars themselves just as an Amazon seller and with third party sellers, 160 billion. So we have quite a lead there.
[0:12:35.9] REBECCA: And so the last one that we've got here, the 6th reason to be excited is I think that feeds into the reason why number five is even possible. So what have you got about the number of sellers on Amazon? The number of sellers is what makes being able to ship that number of items per minute possible.
[0:12:55.4] STEPHEN: Right, so get this, right now as of 2019 there are over 2.5 million active sellers on Amazon. This doesn't count people that have an account that aren't selling anything but actually active sellers on Amazon is over 2.5 million of us, third party sellers. And some of us have been pretty successful. Over 25,000 sellers have broken the $1 million sales mark per year and over 200,000 sellers have broken the $100,000 sales mark per year and that excites me because they're able to do it and we can do it too and the opportunity is huge.
[0:13:34.4] REBECCA: Yeah that is really exciting to think about because I know even just in our Facebook Group, sometimes I feel like, "Oh we know all the FBA sellers out there." I feel like we've got such a tight community, not just in our Facebook group but in other groups where we know other FBA sellers. There is several great communities out there and you know there might be 10,000 people in a Facebook group or 20,000 people in a Facebook Group.
I don't know what the cap is on some of these bigger groups but that seems like that is a lot of sellers but then you look at these numbers, 2.5 million, we don't know, just hardly a fraction of the FBA sellers that are out there. So sometimes it can feel lonely like you are the only one you know that is doing this and sometimes it can feel like it is just hard to get any type of traction but it is possible because there are 200,000 sellers actively selling six figures on Amazon in a year. It is so doable. It is really doable guys, you can do it.
[0:14:33.6] STEPHEN: Absolutely and Rebecca was talking about our Facebook Group, if you are looking for a community to help you along the way and give you that encouragement and brain storm ideas, you can come to fulltimefba.com/facebook. Answer questions to make sure that you are a good fit that you are an actual human and you can join our Facebook group and we can help you out along the way.
So I want to give you one little bonus statistic that I read. Over one million new Amazon sellers join Amazon every year and so remember the previous statistic that I just said, there is 2.5 million active sellers. But there is about a million joining per year. So that means that there are a lot of people who start and quit and that is what we are going to be talking about next week. Next week we are going to be talking about why sellers quit on Amazon and how to avoid their mistakes. How we can learn from their failures and how we can help almost guarantee our success selling on Amazon by learning from their mistakes.
Because a million people join Amazon as a seller but not a lot of them stick around and I want to help set you up for that success, to turn those part time owners into a full-time income with Amazon.
Real quickly, I will mention the sources and I will even link to them on the website, fulltimefba.com/15. Thanks to Big Commerce, Oberlo, Feedvisor, ScrapeHero, Statistica, Marketplace Polls and Amazon themselves for all of these statistics that I will link to in the show notes.
[END OF DISCUSSION]
[0:16:07.3] REBECCA: All right as we are getting ready to close up here, we just wanted to let you know about an opportunity you have right now, if you are listening to this when this episode is going live at the beginning of February, we have a wholesale workshop available for you to take part in. If you go to fulltimefba.com/wholesaleworkshop, you will be able to watch those videos, learn some great information about how to get started with selling through wholesale accounts.
Purchasing items from a wholesale account for you to resell as the retailer on Amazon and it is really great information but it is only available for a limited time. So be sure to get right on that and go to fulltimefba.com/wholesaleworkshop if you are listening to this in early February 2020, it is available for you now.
[0:16:57.9] STEPHEN: And if you happen to be listening to this after that. If you go to that same link, you can sign up for a waitlist. This opportunity is usually opened up only once a year and we want you to be able to get that. So you will get a notification the next time it happens to open up if you happen to miss this opportunity here in February.
Again next week, we are going to be talking about why Amazon sellers quit, why they throw in the towel and how you can avoid the failures that have caused them to quit. We are going to make sure to set you up for success and I look forward to talking about that on the next episode of The Full-Time FBA Show.
[0:17:30.1] REBECCA: That sounds great, looking forward to it. We will be back with you next week on The Full-Time FBA Show.
[0:17:36.7] STEPHEN: See you then.
[OUTRO]
[0:17:39.7] ANNOUNCER: That is all for this episode of The Full-Time FBA Show. So head over to fulltimefba.com/podcast, where you will find the show notes and links from this episode. While you're there, subscribe to our newsletter where you'll get several free downloads of our popular and helpful Amazon FBA resources.
Now, take action on what you have learned today so you can find success at turning part time hours into a full-time income with Amazon FBA.
[END]