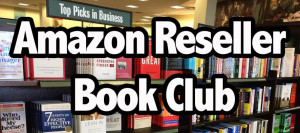 Welcome to the Amazon Reseller Book Club!
I'm glad you've joined the club (if you haven't yet, then click here and join for free). The next time you check your inbox, you'll find an email from me about the book we are all currently reading together. You can also scroll down to find the archives of the previous books the club has already completed.
Want to be part of the discussion? While you read the book, you can:
#005 – Mindset by Carol Dweck
#004 – The One Thing by Gary Keller & Jay Papasan
#003 – The 4-Hour Workweek by Tim Ferriss
#002 – Eat That Frog by Brian Tracy
#001 – Start With Why by Simon Sinek
Do you have an idea of a book you'd like us all to read together? Feel free to post book suggestions in the comments below, as well as any questions you may have. I'd love to hear from you what you'd like to read next.
Again, if you haven't joined the book club yet, be sure to click here and join for free.