Welcome to the Full-time FBA Resource page, where you'll find all of my most recommended resources that have helped me turn part time hours into a full-time income.


Disclosure: Some of the links on this page are affiliate links and, at no additional cost to you, I will earn a commission if you decide to make a purchase. Please know that I only recommend products I have either used myself (and found to be extremely helpful) or products that are created by thought leaders who I know and trust. I don't promote these products because of the small commissions I make if you decide to buy something. Remember, only buy a product if you think it will help you achieve your goals.
Full-Time FBA Resources
(scroll down further down this page for my most recommended resources from people I know and trust)
JumpStart Amazon: Build a Successful Amazon FBA Business
Since 2012, I've been able to make a full-time income by only spending part-time hours selling quality merchandise on Amazon… and you can too! Instead of spending thousands of dollars for me to coach you into an Amazon business, I've instead created an affordable course that will teach you everything you need to know from how to start strong, to setting up your Amazon business for long-term success. This course comes with a video course (10+ hours) plus an ebook (200+ pages) that both contain the same content that will help you create a highly profitable Amazon FBA business.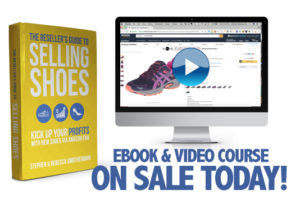 The Reseller's Guide to Selling Shoes: Kick Up Your Profit With New Shoes via Amazon FBA 
What would your Amazon business look like if your average selling price (ASP) was $75? How much larger would your disbursements be if you were selling higher priced items like shoes? If you're ready to kick up your profits with selling new shoes via Amazon FBA, then this course is for you! Selling Shoes is a full course featuring 100+ page ebook and over 4.5 hours of video content that will walk you through how to get started with selling profitable shoes on Amazon (including how to get ungated) and quickly become an online shoe selling expert.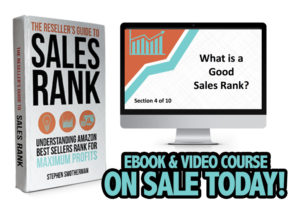 The Reseller's Guide to Sales Rank: Understanding Amazon Best Sellers Rank for Maximum Profits
Amazon sales rank is easily one of the most complicated and misunderstood aspects of selling online. Too many Amazon sellers assume if an item on Amazon has a certain "good" sales rank, it will automatically sell quickly. This assumption falls apart when the seller realizes most their inventory is not selling at all, and to make things worse the prices of their inventory items have tanked. This course is packed with over 30 pages and almost 2 hours of video content filled with teachings and illustrations that will help you understand not only how sales rank works, but also how to best use sales rank info to dramatically improve your inventory sourcing buys.
The Reseller's Guide to How to Keepa Camel: Using Amazon Sales History to Make Smart Sourcing Decisions
Have you ever wondered what it would be like to buy inventory that almost always sells quickly? Do you ever get frustrated because it seems like by the time your inventory arrives at Amazon, your competition has "tanked" the price and you're not able to sell your inventory at the price you wanted? If it seems like your Amazon sourcing is more of a gamble than a sure thing, then this course is for you. With over 4 hours of video and 130+ pages, this book tells you everything yo need to know to make the most out of the free pricing and sales rank data provided by Keepa and CamelCamelCamel.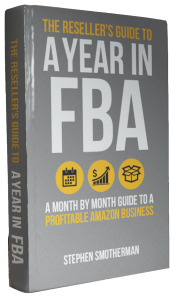 The Reseller's Guide to a Year in FBA: A Month by Month Guide to a Profitable Amazon Business
This book is over 160 pages jam-packed with tips, resources, and strategies that will help you have your best Amazon FBA year ever. From January to December, this book will show you exactly what to expect and what you need to prepare for when it comes to maximizing your profits for selling via Amazon FBA.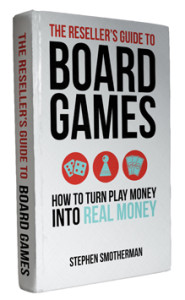 The Reseller's Guide to Board Games: How To Turn Play Money Into Real Money
Selling board games is a great niche to add to your online selling business. Whether you sell on eBay or Amazon, board games can be very profitable, but only if you know what you're doing. I find so many board games to sell that I don't mind sharing with you all of my secrets.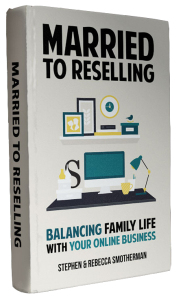 Married to Reselling: Balancing Family With Your Online Business
In this book, my wife Rebecca and I will walk with you through ways we can all find success in balancing our time with family while working from home. We'll tackle both the business and personal sides of life as a reseller, and we'll help you explore a system that works best for you and your family.
The Reseller's Guide to Black Friday: The Fool-Proof Strategy To Rock Black Friday Sales Every Year
This book is packed with tips, resources, and strategies to help you have your most profitable Black Friday ever. You'll learn exactly what to expect, as well as what you need to do to be properly prepared for maximizing your time and profits for shopping Black Friday sales.
OUR MOST RECOMMENDED PRODUCTS
Amazon Courses for Beginners
Amazon Bootcamp
– A video-driven online course that takes you step-by-step through the whole Amazon selling process. From signing up for a seller account to sourcing your first products, this course will walk you through everything you need to know to get started…and get started right. With over 10 hours of video training, you can be confident that you'll be able to building up a strong foundation for selling on Amazon.
The Proven Amazon Course
– One of the first and largest courses focused on selling on Amazon. The Proven Amazon Course will help you start up and succeed with selling on Amazon. This course has new content added multiple times a year and covers multiple different ways to sell on Amazon. Includes plenty of basic and advanced strategies and teachings.
Amazon Books for Beginners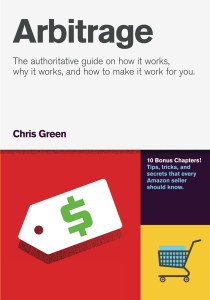 Arbitrage – In my opinion, the best book for understanding how buying and reselling online works. After you read it, this will be the book you tell your friends to read who just "don't understand how selling stuff online works."
Amazon FBA Launchpad
– A great book that will not only help you set up your Amazon selling account, but also show you how to build a strong foundation in which to build your own Amazon empire.
Online Arbitrage
Online Arbitrage – This book is more than just a book. It's more like a college textbook that comes with color pictures and a full-length video companion course. This is by far the best resource to help you learn all the ins and outs of online arbitrage. You might be discouraged by the cost, but let me tell you that this resource is worth every penny. We were able to start really ramping up our Amazon FBA business with this book while spending less time sourcing all day on retail arbitrage trips.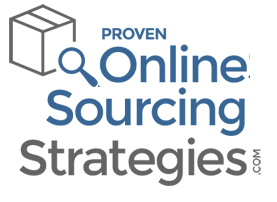 Proven Online Sourcing Strategies – This is a video driven course that contains over 7 hours of training on practical and profitable strategies for online sourcing. The course is taught by 4 different teachers, so you can get teachings and tips from 4 differne pont of views. This course is great for those who want more of a video driven course.
Ebates
– If you're going to be shopping online for inventory, you might as well get some of your cash back. Ebates is the number one most trusted cash back site. All you need to do is sign up, and then when you are ready to shop online, click through the eBates button and you'll start earning cash back. The more you buy, the more you can earn. We've had cash back checks for up to almost $400!
Outsourcing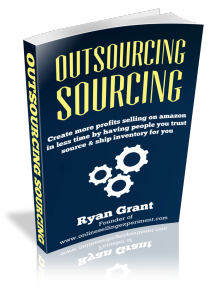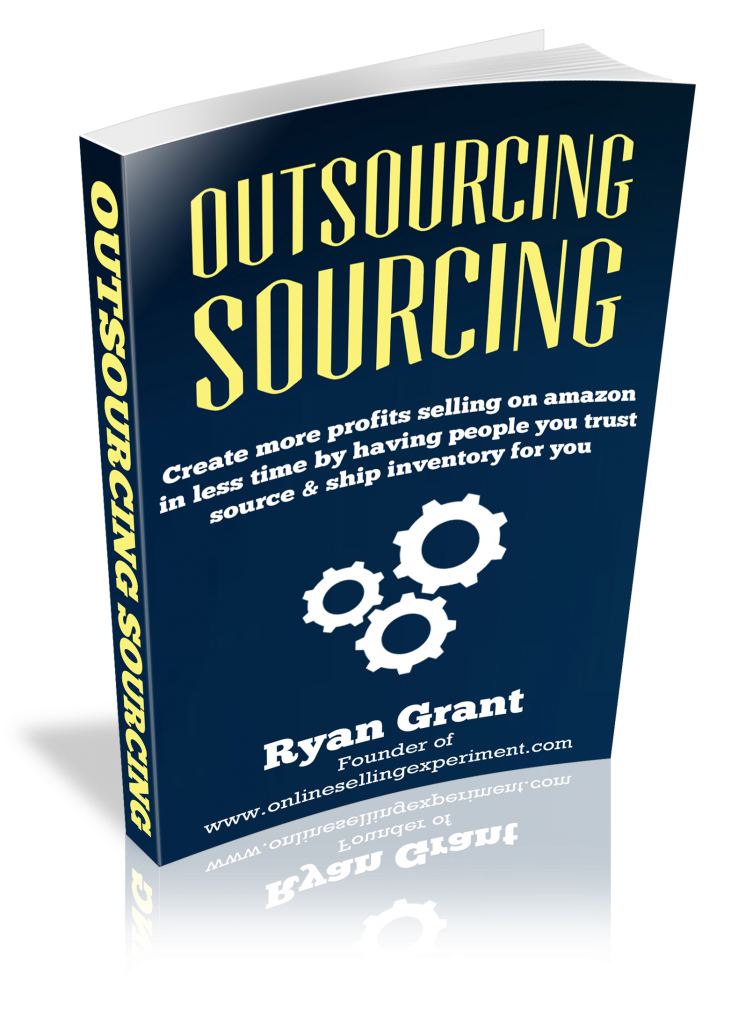 Outsourcing Sourcing – If you're the only person sourcing inventory for your Amazon business, then you're missing out on some huge growth opportunities. Imagine building a team of people who go out and source inventory for you. In this book, Ryan Grant walks you through the exact process of how to find, hire, and train people to source profitable inventory for you. He offers multiple methods of outsourcing to help you grow your Amazon business.
Finances

TaxJar – TaxJar is an amazing tool that painlessly takes care of everything when it comes to sales tax (collecting, filing, paying, etc). No need to stress over all the different sale tax rules and filing dates of all 50 states when you can let TaxJar take care of it for you. Sign up today and get a 30 day free trial.
Basic eSales Bookkeeping Spreadsheet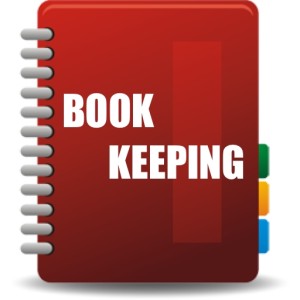 – This is perfect for those who are just starting out and want to better understand their numbers. This spreadsheet will help you understand each item's ROI and profit margins and will help you find out exactly how much you're really making with your online business.
Amazon Reimbursements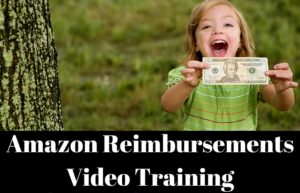 Reimbursements Training Videos – This video course walks you through how to get the multiple reimbursements you deserve from Amazon. It also includes multiple email templates for exactly what to communicate to Amazon in order for them to be more likely to grant your reimbursement requests. This resource will literally pay for itself the first few times you use it.
Inventory Sourcing Methods
Product Sourcing Masterclass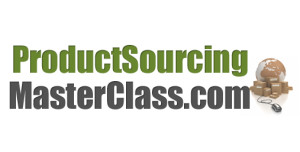 – Over 4 hours of video training walking you through 30+ high-profit product sourcing strategies from two of the most experienced online sellers on the world. After this course you'll know where to look and how to find profitable inventory to sell on Amazon.
Bundles
Amazon Bundles: The Basics & Advanced Strategies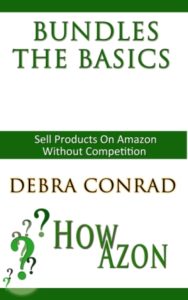 – This is a 65 page ebook that includes 15 video modules walking you though how to create bundles that sell. With bundles you can eliminate the competition and bring a unique value to your customers. This course helps you find creative and profitable bundle ideas and then walks you through how to set up a sales page that will drive traffic to your products.
Wholesale
Proven Wholesale Sourcing – This is a webinar/video based course that walks you through what you need to know in order to find wholesalers, gain wholesale accounts, and set up successful wholesale buying relationships. Each of the 6 main webinar videos includes around 60 minutes of teaching followed by 45-60 minutes of recorded Q&A about learning wholesale. The course also comes with 4 bonus videos, as well as downloadable audio, slides, and transcripts.
Real Wholesale Sources – Over 200 legitimate sources of wholesale inventory for your Amazon and/or eBay business. You'll also get instruction on how to quickly identify profitable inventory and even instruction on how to possibly avoid ever having to manage the inventory yourself (have others do the prep and the selling for you!). This is a good starting point for those who are new to wholesale and need help finding suppliers.
Amazon Niche Books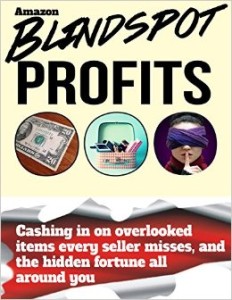 Blindspot Profits – What would you think if you found out that you were possibly walking right past items every day that would sell online for easy profits? After you read this book, you'll start to see profitable items when other people just see junk. Sell even more items than you do now while sourcing at the exact same places.
Grocery Goldmine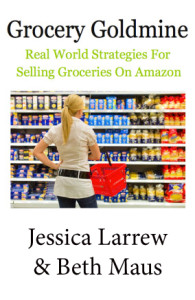 – This book is what really helped us brach out into selling groceries on Amazon. We were able to take the wisdom from this book and start making some really good money selling grocery items we found at some of our local grocery stores. To see a full review of this book, as well as some of out first experiences with buying grocery items to sell on Amazon, you can read this blog post.
Liquidation Gold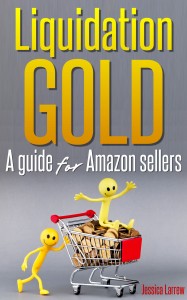 – Liquidation stores are possible goldmines of low prices, fast turning inventory. But you need to be wise when shopping at liquidation stores. This book walks you through how to find these close out stores near you and all of the best practices for making wise decisions when it comes to sourcing liquidation stores. To read about our liquidation store experiment, click here.
Traveltage (Traveling + Arbitrage)
Amazon Autopilot: On the Road
 – If you like to travel, but also want to keep sourcing for profitable inventory for your Amazon FBA business, then this book is for you. It's a great book that can help you travel around the US for free! I've used the tips in this book and was able to find inventory during a 4 day trip and end up paying for the trip (gas, hotel, food, travel attractions) with the money we made from the sourcing we did. Here's a blog post on how we traveled for free using tips from this book.
Creating or Improving Amazon Product Pages
Amazon Advantage: Product Listing Strategies to Boost Your Sales – A great book on how to write (or rewrite) Amazon product listings that actually increase sales. This is great for when you are creating your own product listing or want to improve on a listing where you have multiples in stock that you would like to sell more of. Improve titles, keywords, and descriptions with the help of this book.