On the first episode of The Full-Time FBA Show, you'll learn more about Stephen and Rebecca Smotherman and their journey to making a full-time income with only part-time hours via Amazon FBA.
Stephen will share how he first got started selling online and how selling on Amazon was a game-changer in his life. He shares what he learned along the way that most helped him make that transition from selling part-time on Amazon to finally making a full-time income.
Listen on the podcast player below.
Like what you hear? Be sure to leave us a rating and a review. Here's how.
Links and resources mentioned in this episode:
Right-click here and save as to download this episode to your computer.
More Episodes from Season One of The Full-Time FBA Show podcast:
Don't miss an upcoming episode! Subscribe, download episodes, and review The Full-Time FBA Show: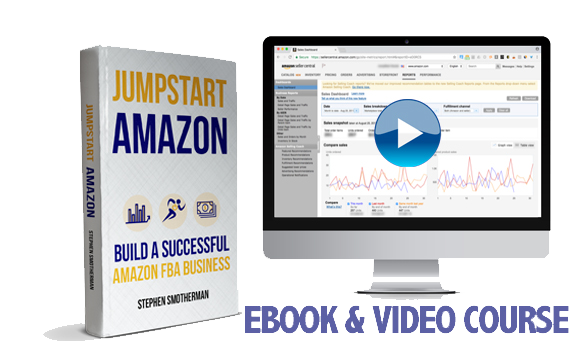 By now you know that running a successful Amazon business takes hard work, but you also want to be sure you spend your time focusing on Amazon FBA strategies that are actually proven to provide the results you're looking for. If you're ready to finally get serious about your Amazon FBA business, then I invite you to check out JumpStart Amazon: Build a Successful Amazon FBA Business.
JumpStart Amazon is a combination video course and ebook. The ebook is over 220 pages filled with the content and graphics you need to start a successful Amazon business from scratch. The video course features 5 main sections, 19 content-packed modules, and over 40 videos adding up to over 10 and a half hours of video training. This training is set up to help you build a solid foundation and then know how to find growth and success on top of the basics. This course is packed with more results-focused knowledge than any other ebook out there centered around starting an Amazon business. Find out more about JumpStart Amazon today.

Back to the main page for The Full-Time FBA Show