In this episode, Chris Grant talks about his journey from being a salesman in the insurance business to becoming his own boss by making a full-time income selling on Amazon. Chris shares his story about when he knew he had to make the jump to full-time FBA, while his family was worried about him making this move, and how he made the transition a very successful one. He talks about how he was able to find tons of inventory (even sharing the store names) to sell on Amazon and what he thinks was the biggest difference maker in successfully doing retail arbitrage (RA).
Chris then talks about how he transitioned to adding online arbitrage (OA) and the specific lessons he had to learn to make the best use of his time and money doing OA. He shares how to know which stores online are profitable and what OA tool is the best to use in finding profitable inventory faster than before. On top of the knowledge you'll learn from Chris in this episode, you'll also get a free download of one of Chris' most popular OA chrome extensions that helps you save more money buying inventory.
Listen on the podcast player below.
Like what you hear? Be sure to leave us a rating and a review. Here's how.
Links and resources mentioned in this episode:
Right-click here and save as to download this episode to your computer.
More Episodes from Season One of The Full-Time FBA Show podcast:
Don't miss an upcoming episode! Subscribe, download episodes, and review The Full-Time FBA Show:

Tactical Arbitrage is online softw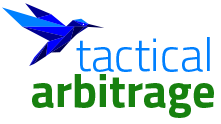 are that allows you to scan an entire category of a store's website to find matches in the Amazon catalog, either by UPC or by product title. Tactical Arbitrage allows you to set up bulk scans of multiple pages and multiple websites to scan at one time, so that you can start a scan and come back to it later after it has finished.
The results of a Tactical Arbitrage scan show you links to product pages on the online store's site and Amazon, links to Keepa, and columns of info on pricing, sales rank, profit, and ROI, among other things. Tactical Arbitrage has other features and methods for doing reverse scans, Amazon flips, and more. The time you can save using Tactical Arbitrage adds up to hours per day. If you want to check out an extended free trial of Tactical Arbitrage, be sure to use the code FULLTIME10 when signing up at www.fulltimefba.com/TA.