The Reseller's Guide to Black Friday
(Book + Video Master Class)
The Fool-Proof Strategy to Rock Black Friday Sales Every Year
Do you ever wonder how some resellers can brave the craziness of Black Friday and make thousands of dollars with just one day of work? Have you ever actually tried to shop for resale on Black Friday, only to come home with just a few items and feeling like you wasted hours of your time? Do you ever wonder what it would be like not only to be prepared for Black Friday, but also to know exactly where you need to go, what
to get, and how much profit you'll make? If you ever feel like you're missing out on an incredible, high-profit-making opportunity because you skip the Black Friday sales, then this book and video master class are for you.
When you first think about Black Friday, what do you imagine? Long lines outside the store, good deals, crazy shoppers, and even longer lines at the cash register? Maybe you think of people fighting over the last "insert popular item of the season here." If you have ever watched the evening news on Black Friday, then you might even be scared for your life.
It doesn't have to be like that at all.
In fact, we can show you the exact strategy to rock Black Friday sales every single year. We can't wait to tell you how.
What You Can Expect
The Reseller's Guide to Black Friday is an ebook and video master class that will help you be properly prepared for all you need to do (and avoid doing) in order to help you save time and maximize your profits on Black Friday. From the "leaked" pre-Black Friday ads to the big shopping day and beyond, we'll walk you through everything you need to know. Covering important deadlines, multiple sourcing strategies, and how to make the absolute best use of your time and capital, this ebook and master class will help you know how to rock Black Friday sales year in and year out.
Access to the Black Friday Video Master Class
Get exclusive content from Stephen Smotherman and the Queen of Black Friday herself, Kristin Ostrander. In this video master class, you'll have the opportunity to hear even more valuable information as Kristin and Stephen both walk you through how they each prepare for Black Friday. We'll show you our proven strategies for how to make the most of Black Friday sales both before, during, and after Black Friday.

Scroll inside the box below to check




out the table of contents:
The Reseller's Guide to Black Friday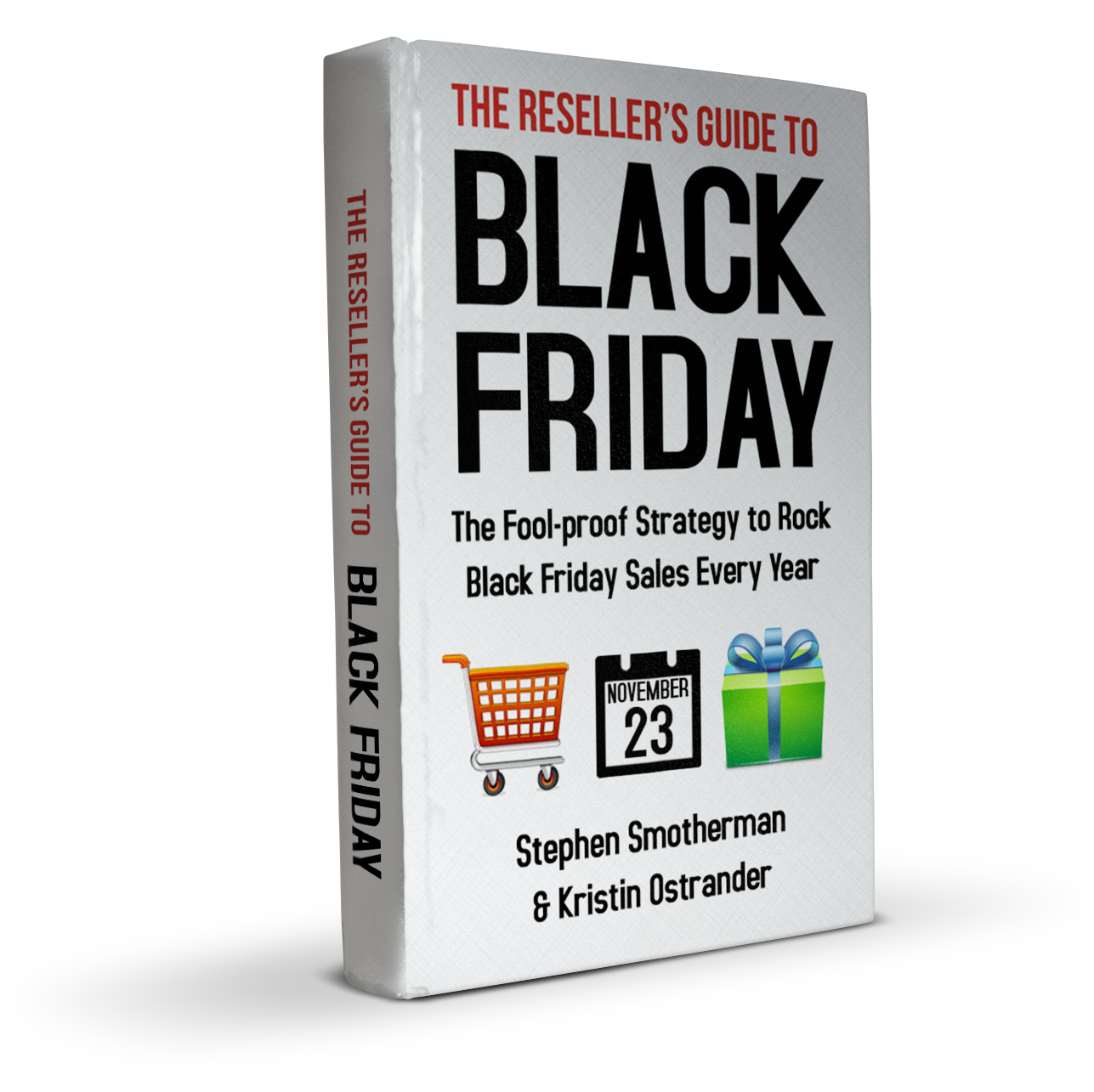 Table of Contents
Intro - Who We Are
Stephen Smotherman

Kristin Ostrander

Basic Understanding
Chapter 1: The Potential for Profits from Black Friday Sourcing
Kristin's strategy on Black Friday
Stephen's strategy on Black Friday
Chapter 2: Do the Research
Advance Research

Black Friday Websites

Organize Your Research

Cross Referencing

Previous Year's Ads

Visiting the Stores Ahead of Time

Know What's on Amazon

When Should I Start?

Conclusion
Chapter 3: Develop Your Strategy
Toys, Toys, Toys!

Think Outside the Hot Toy Box

Beyond the Big Stores

Beyond Toys
Chapter 4: Draw up Your Plan
Set up a Budget

Make Your Buy List

Stock up on Supplies

Prepare Your Tax Exempt Paperwork

Hire Help

Plan Your Route

Arrange Transportation

Let's do this!
Chapter 5: On the Big Day
What to wear, bring, and remember
Kristin's Teamwork - A Case Study
Unadvertised Sales
Purchase Limits

Patience

Keep Yourself Informed
Chapter 6: Post-Black Friday Hustle
Buy Fast, Ship Fast
Listing While Still in the Store
Chapter 7: Other Ways to Make the Most of Black Friday Sales
Online Arbitrage

Spur-of-the-Moment Deals

In-store Pickup
Chapter 8: After the Black Friday Sales
Family First
When to Stop
Alternative Holiday Break
Chapter 9: Applying for Approval to Sell Restricted Items from Your Black Friday Sourcing
Types of Selling Restrictions
Why Amazon Restricts Brands
How to Check for Selling Restrictions
How to Apply for Approval
Apply Again Later, If Necessary
How to Respond When a Brand You Sell Becomes Restricted
Assessing Risk
Conclusion on Brand Restrictions
Chapter 10: Concluding Thoughts on Black Friday
Better Prices Before AND After Black Friday?
Go At Your Own Pace
Bonus Material – Not only do you get the 50+ page The Reseller's Guide to Black Friday ebook and access to the master class, you'll also get these 4 valuable bonuses at no extra charge.

Access to the Black Friday 2022 Special Report – We all know that 2022 has been a unique year. Because of the worldwide pandemic and global supply chain issues, every industry has needed to make changes and pivot their focus in order to stay competitive. Those who don't adapt might end up on the losing side of everything. With this in mind, we've put together this special report with a few important factors to consider when you're planning your Black Friday sourcing strategies. In this report, we outline six specific ways that Black Friday will possibly be different in 2022 and how to turn these differences into money-saving and profit-making opportunities for you.

Black Friday Checklist – Print out this checklist to make 100% sure that you have remembered everything you need to make the most of the Black Friday sales. From the pre-planning strategy to the big day, this checklist will insure that you don't miss any of the important steps or supplies to make this Black Friday your most profitable Friday ever.


Black Friday Buy List – Print this Buy List and fill it in to know exactly what you are looking for at each store you shop at on Black Friday. Don't rely on your memory to remember everything. You can print out as many Buy Lists as you need for each store. At the store, you'll be armed with all the knowledge you need to get in fast, buy the best items, and get home before the sun goes down.

Black Friday Master Class Slide Deck (NEW!) – Download the slides from the video master class webinar where we discuss exactly how to profit from Black Friday sales before, during, and after Black Friday. Cut down on the notes you need to take from the master class by reading through these slides packed with Black Friday strategies for both retail arbitrage and online arbitrage.
How much is being prepared worth to you?
The Reseller's Guide to Black Friday eBook and video master class is a one time charge of only $87. The book has been updated for 2022 and includes 50+ pages filled with everything we know about how to make the most profit before, during, and after Black Friday.

You'll get exclusive access to the LIVE master class where we walk you through the main steps toward Black Friday success. Not only do you get

the book and master class, but you get the 4 valuable bonuses mentioned above.

Plus, when you get The Reseller's Guide to Black Friday, you'll be automatically enrolled into the lifetime ownership program. This means that every time we update the book (at least once a year), you'll get the updated editions for FREE. We also offer a 30-day 100% refund policy… so you have nothing to lose.

Limited Time Opportunity
The Reseller's Guide to Black Friday is only available from now until Thursday, November 17. After then, the doors to purchase this book and master class will close until 2022, so act now. Also, be aware that the price of the course will increase next year. So, click on any of the "Get Access Now" buttons on this page and gain access to the live master class, the book, and all of the awesome bonuses today.

Who Are We?
My name is Kristin Ostrander, and I run Mommy Income. I'm an entrepreneur, a wife of 22 years, and a mother of three beautiful children. Ever since I was a child, getting the most bang for my buck seemed to be ingrained in me and has stayed with me to this day. I started selling on eBay in 2003 and then on Amazon in 2009. I have experienced 11 busy Q4s (fourth quarter selling season from October to December) and have more than doubled my sales each year. I usually work only 3 hours on Black Friday and end up making $5000 in profit. Not bad for a few hours of work. With the right strategy, you can do this too!
My name is Stephen Smotherman, and I run the Full-Time FBA blog with my wife. Ever since I sold my first item on eBay back in 1998, I've been hooked on selling profitable items online. Since 2011, I've been able to make a full-time income working only part-time hours selling via Fulfillment by Amazon. With my FBA income, I'm able to support my wife and boys and live a
life free from the 9-5. For the past few years, I've actually stayed home on Black Friday, but still take advantage of many of the Black Friday sales online and the big sales in stores before and after Black Friday for amazing profits. I can't wait to tell you in the book how I'm able to do it.
Testimonials from S

e

llers
Like You
I absolutely love this course! It helped me identify deals and focus my search on Black Friday. There's nothing like being able to proceed with a game plan. And this course will definitely help you create a game plan for the holiday arbitrage season. With The Reseller's Guide to Black Friday, I made double my profits from the year before.
When people ask me what course was the most helpful to me I tell them about The Reseller's Guide to Black Friday book and master class from Kristin and Stephen. I had bought other courses before this one but this Black Friday guide helped me learn how to do online sourcing for my Amazon business.
Kristin walks you through her very own process of what she looks for when researching products to buy and also demonstrates how to use the Keepa charts to make better decisions on what to buy to resell on Amazon. I earned my money back the same day I watched the master class webinar. This guide is great information that you can use for Black Friday as well as year-round to make money.
I have been selling on Amazon for 6 years, and I am now a full-time Amazon seller. This certainly isn't my first Q4, but after watching the Black Friday Master Class, my mind is absolutely blown! Now I can't put down The Reseller's Guide to Black Friday. I've been leaving money on the table in past years, but not this year! Stephen and Kristin, I can't thank you enough!
Stephen Smotherman and Kristin Ostrander have partnered to provide different, yet complimentary approaches to sourcing and profiting from Black Friday sales. Whether you are a novice or an experienced Black Friday shopper, this book will provide a basic foundation to help you form a strategy for Q4 shopping.
Helpful hints, tips, and tricks are included to help with planning and researching, preparing an in-store strategy, thinking outside the box to reduce competition, and more. There is newer information for those who are willing to venture out into the stores on Thanksgiving Day or Black Friday, however, there are many tips included for those who prefer to stay home and source for inventory online. It is a good read and has helped me to formulate my own strategy for how I will approach the upcoming shopping frenzy
In the Reseller's Guide to Black Friday, Kristin Ostrander and Stephen Smotherman show you how to make the most out of your time and money when preparing for Black Friday and for Q4 in general. They walk you through step-by-step planning for this important time of year. Everything from doing research ahead of time, to hiring helpers, to finding deals other resellers may be missing. You will learn exactly how to research Black Friday.
The websites, the important tools, the ads, the stores. How to research in the stores before the big shopping day. You will even learn how to work around going out on Black Friday (or Thanksgiving Day!). You can still take advantage of some of the deals even off you do not plan on shopping on the big weekend itself. The Reseller's Guide to Black Friday is a must-read for any Amazon FBA seller wishing to take their game (and their profits) to the next level
The Reseller's Guide to Black Friday is the go-to guide for Amazon online resellers who want to maximize profits on America's biggest shopping day! With the tips I learned in this guide, I'm developing a pre-sale plan and I know I will make more money. This book gives you step-by-step strategies to research, identify, plan, and implement winning strategies to find profitable merchandise to resell online.
This book gives you websites to follow, how to organize your research, store visits, when to start, the Christmas Smile, outside the box thinking, making your list, more than big box stores, keys for hiring help, sourcing Black Friday online, with real life experiences and sure-fire tips to increase your effectiveness in sourcing on Black Friday. Kristin Ostrander and Stephen Smotherman give you the training you need to look for the types of deals to increase your profit during America's biggest shopping weekend. Don't hesitate, get your copy now and you'll be ahead of 95% of the other resellers on Black Friday
I love that Kristin and Stephen bring their own unique perspectives to leveraging profit potential on Black Friday. They show there are multiple strategies to fit everyone's time, budget, and business model. I loved the tip to create shopping lists in the apps you mention in the book, and how they laid out step-by-step plans using Black Friday as a reseller from a business perspective
I love the perspectives from Stephen and Kristin, each with a different approach to sourcing Black Friday deals. The strategies provided along with the importance placed on doing research and examples based on the authors' personal experiences are invaluable. Included are practical tips for creating your buy list and tips on maximizing savings on purchases.
Stephen and Kristin stress the importance of "knowing your numbers" and having a strong plan for your Black Friday spending budget. I specifically found the tips for "on the big day" and "teamwork case study" extremely helpful. Stephen and Kristin have provided a thorough guide to attacking Black Friday for new or seasoned Amazon sellers. Resellers Guide to Black Friday is a must read for every Amazon seller!
100% MONEY BACK GUARANTEE
This book comes with our 100% Money Back Guarantee. If you don't feel like this book adds value to your current online selling business, simply ask for a refund within 30 days of purchase, and you'll get 100% of your money refunded. No questions asked. Seriously! All you need to do is send us an email, ask for a refund, and you'll get it. Remember, you have 30 days to read the book, apply what you've learned, and see how things turn out… so you have nothing to lose.
If you're ready to rock Black Friday every year, then grab The Reseller's Guide to a Black Friday today.

Copyright © 2022 Full-Time FBA. All rights reserved.