If you have sold any items related to the Disney movie Frozen, then you probably received an email that starts something like this:
Hello from Amazon,
Amazon strives to provide the best possible experience for customers. As part of our ongoing efforts, we have implemented listing restrictions on certain items. You are receiving this email because your listings for the effective ASINs are among those that have been removed as a result of this policy. This removal is effective immediately.
For the remainder of this blog post, I'll do my best to answer some of the FAQ (Frequently Asked Questions) about the sudden removal of almost all Frozen movie related items being sold on Amazon. Disclaimer: I am not associated with Amazon and these questions are all answered to the best of my knowledge. Before acting on any of my answers, be sure to do your due diligence and consult Amazon directly to confirm the most up-to-date information and policies on this situation.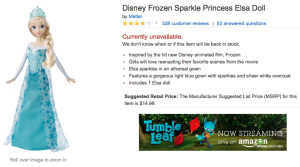 What does this email mean?
Amazon had many upset customers claim that they were sold counterfeit Frozen movie related items, mostly toys. Even Amazon themselves were selling counterfeits unknowingly. This has led Amazon to do an intensive investigation of almost all Frozen movie related items to insure that the items are genuine. To conduct this investigation, Amazon needed to move almost all Frozen items to inactive status so that the FBA warehouses can pull all Frozen stock to confirm if it is genuine or counterfeit.
Is Amazon accusing me of counterfeiting? Will my selling account be cancelled?
Since even Amazon was unknowingly selling counterfeit Frozen toys, they know that others are doing the same. Amazon is very customer-centric and they want to insure that they are selling genuine Frozen items. The only chance you have of getting your selling account cancelled is if you were indeed selling counterfeits. If you purchased your items from The Disney Store, JCPenney, Target, WalMart, or any other retail store that sells Frozen items, then you should be fine.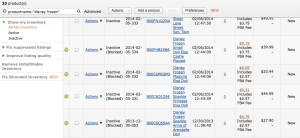 How do I find out if Amazon has blocked my Frozen items from being sold?
1. Log in to Seller Central. 2. Click on Inventory and Manage Inventory. 3. Type in the word "Frozen" in the search bar and hit return. 4. You will be able to see all of the items in your inventory that relate to the word Frozen. Items that are blocked will have a blocked icon and also state that it's blocked.
When will I be able to sell my Frozen items again?
Once the investigation is complete, your genuine Frozen items will become active again and will be available for sale. There is no current timetable for this investigation, but I'm sure that Amazon wants to get this taken care of as soon as possible. Amazon is losing a lot of money because of this and wants to get back to selling Frozen items again soon.
I bought Frozen items from Amazon so that I could resell them on Amazon. What if I bought one of the counterfeits that Amazon sold me?
If Amazon concludes that you are indeed selling counterfeit Frozen items, then they will most likely deactivate your account. I would assume that since you have proof that you bought the item from Amazon that you can tell them that Amazon was the original source of the counterfeit item. In fact, if I were in this situation, I would not wait until my account was deactivated to tell Amazon this fact. If you bought a Frozen item on Amazon to resell on Amazon, then I would open up a ticket and explain yourself to Amazon so that they know this ahead of time. This might save you a lot of time and trouble if you are able to inform Amazon about this before they deactivate your account. If your account gets deactivated, then it could take weeks or months (or never) before you can get your account reinstated. Be proactive and let Amazon know ahead of time that you are concerned that some of your Frozen items are counterfeits because you originally bought them from Amazon themselves.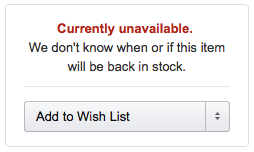 Can I create a removal order and get my Frozen inventory back?
No. Almost all of the Frozen movie related items are currently being held for investigation. You can't ask for a removal order, and you can't ask for Amazon to send it to a buyer via MCF (Multi-Channel Fulfillment). Once the investigation is complete, your genuine Frozen items will become active again and will be available for sale or removal.
I just bought some Frozen items to send to Amazon. Can I still send them in?
No. Amazon will not allow you to send any more Frozen items at this time. If you try to send them in now, you will get a notification that the item is currently restricted.
I just sent some Frozen items to Amazon. What will happen to those?
Your Frozen items will arrive, get checked in, and immediately become inactive. They will also be included in this counterfeit investigation.
I just shipped some Frozen items to Amazon — should I call UPS and have my shipment re-routed back to me?
This is completely your call. If the majority of the items you are sending to Amazon are restricted Frozen items, and you are ok with re-routing your shipment and dealing with how Amazon would react to a re-routed inbound shipment, then make that call. I personally would not.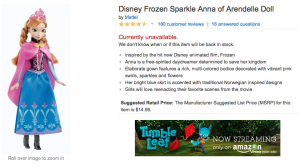 Can I sell Frozen items Merchant Fulfilled?
No. Amazon seems to have completely removed all selling privileges on almost all Frozen items.
I'm selling a Frozen item, but it's not restricted. Should I be worried?
Amazon seems to be adding more and more to the list of restricted Frozen items, so some items not currently restricted could become so soon. You could try to lower the price of the items to sell ASAP, or you could just wait and see if the item will become restricted.
I have Frozen items to sell at home. What should I do? 
You can still sell Frozen items on eBay, Craigslist, or any other non-Amazon platform. If you are dead-set on selling these items via FBA, you could still hold these items and wait until the investigation is over.
What's going to happen next?
There are a few rumors going around. The first rumor is that Amazon will weed out the counterfeiters and selling will resume to normal. The other rumor is that Frozen will be opened up again to sell, but will only be sold by Amazon, Disney, and any approved vendors. These rumors are just that… rumors. It's not worth worrying about, but it is a good idea to prepare yourself for whatever might happen next. 
So how have you handled the news from Amazon about Frozen inventory? What do you plan to do to make the most of this situation?
Want more info on how to make FBA your full-time job? Scroll up, look at the right side of your screen, and subscribe.