Amazon has not officially announced this (and I think that's on purpose) but almost every seller I've interacted with over the past few days have all said the same thing:
"Amazon is allowing many non-essentials to be shipped into FBA warehouses again!"
Now, it's important to understand that the doors to FBA are not wide open for anything and everything to be allowed to be shipped into Amazon, but for most sellers many of the items they want to send in are being allowed again. This is good news for Amazon sellers who have inventory sitting around their home or at a prep center waiting to be sent in to Amazon.
Here are the key things to know about the reopening of FBA warehouses:
1. Many
but not all

items can be sent to Amazon FBA warehouses again.

From both my own experience and from talking to multiple Amazon sellers, it seems like most items that have a good sales rank are being allowed back into the Amazon warehouses. If an item does not have a good sales rank recently, then most likely those items will still be blocked from sending to FBA warehouses. Of course, Amazon is bound to still limit some items that, from our perspective, have a good sales rank, but for the most part Amazon is only limiting us from sending in items that its algorithm thinks are not going to sell in comparison to how many of that item is already in stock at FBA warehouses.
2. Amazon has not officially announced that most items can be sent back into Amazon (and here's why).
If Amazon announced to all sellers that most items with good sales ranks could be sent back into Amazon now, then one huge negative thing would happen: Amazon FBA warehouses would become flooded with 3rd party inventory all at once, which would really slow down check in times and cause a lot of stress for 3rd party sellers. Instead, in my opinion, Amazon is slowly opening up more and more inventory and allowing sellers to slowly find out for themselves what they're able to send in again as to avoid a huge rush of items to FBA warehouses that would come with such an announcement.
3. Amazon is slowly letting sellers know what they can send in via their Restock Inventory Page or Restock Report
The only official announcement Amazon has made is on their recent email from 3/27 stating, "We have updated the Restock Inventory page and Restock report in Seller Central so you can check which products are eligible for shipment creation. We consider many factors when determining eligibility, including high-demand products customers need now; current inventory levels and inventory in transit; fulfillment center capacity; and our ability to adhere to the latest health guidelines. We will regularly update the Restock Inventory page and the Restock report as capacity allows us to receive additional products." Note: If you have in the past hidden your restock inventory recommendations, then they will not show up on the Restock Inventory page. You'll just need to run the Restock report instead. Also, this Amazon announcement only mentions restocking items and not anything about new items you want to add to your inventory.
4. You can know what Amazon will allow or will not allow to be sent to Amazon FBA warehouses now.
If you're an InventoryLab/Scoutify user, they have created a quick icon that will tell you, both while sourcing with Scoutify or while creating a batch in InventoryLab, what items can or cannot be sent in to an Amazon warehouse. You can see the icon in the top left corner of the respective images below signaling that this item cannot be sent in to an FBA warehouse right now.
A few days ago, I made a shipment of about 70 items and InventoryLab told me with the icon that only about 4 or 5 of the items I wanted to send in could not be sent in. I just put those items aside and will save them to try again the next time I create a shipment.
5. What Amazon says can and can't be sent to a FBA warehouse is constantly changing.
Amazon is using an algorithm that decides on a daily basis what can and what cannot be sent in to an Amazon FBA warehouse. Mostly this algorithm is calculating the possible demand for this product versus the current supply. If Amazon thinks the demand will outweigh the supply, then they will allow that item to be shipped in to FBA. On the other hand, if Amazon thinks there is already enough supply of a particular item in stock to meet the expected demand, then they will not allow any additional units of that item to be sent to an FBA warehouse. With millions of items selling every day, you can see how this calculation might change on a daily basis. So, if you're allowed to send something to Amazon, then send it in ASAP, because you might not be allowed tomorrow. On the other hand, if you can't send an item in today, try again tomorrow, because your opportunity might open up.
6. Be aware that Amazon could completely close the doors again in the future.
We are living in uncertain times and almost everyone (including Amazon) is trying to do their best to make the most of the current world we live in. It's possible that Amazon could completely close the FBA doors for non-essential items again. Just because they are starting to open the doors again to non-essential items right now doesn't mean it will continue in the future.
7. The essential items are still being prioritized over non-essential.
Amazon is still doing an amazing job when it comes to checking in all inventory, processing all inventory, and shipping out all orders, but just understand that the orders for what Amazon considers to essential are still being prioritized by the FBA warehouses. This means that your inventory might take a little longer than usual to get checked in, go live, and when sold, actually ship to your customer. Don't worry, Amazon won't let any negative feedback stick if a customer gets an FBA order delivered late. Overall, Amazon is doing a phenomenal job keeping up with everything right now.

Now, I would love to hear from you. Have you noticed the ability to send in many items to FBA again? Do you think you'll try to set up a shipment to Amazon sometime soon? Let me know what you think in the comments below.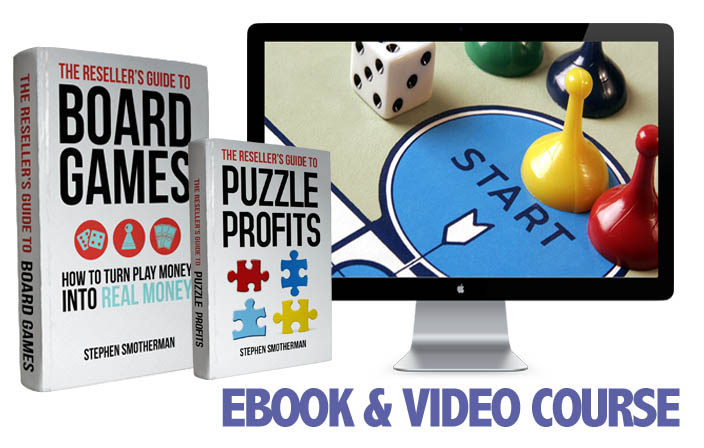 You know what people all over the world are buying online to play right now during their home quarantines? Board games and puzzles! The awesome thing about board games and puzzles is that they sell for really good money in both new and used (collectible) condition.
I put together a course on how to buy and resell both board games AND puzzles for big profits. In fact, one chapter of this course focused 100% on buying these items online in order to sell them on Amazon for a huge profit!
I have discovered the secrets to making hundreds of dollars a week selling new and used board games (and puzzles), and I want to pass on my strategies to you. I'll honestly run out of money before I run out of board games to find and resell.
It's because of this abundance of opportunity that I decided to create The Reseller's Guide to Board Games: How to Turn Play Money into Real Money. With this course, you'll also get the bonus mini-book, Puzzle Profits!
The Reseller's Guide to Board Games is a combination ebook and video course that walks you through everything you need to know about making big profits buying and reselling board games.