Ever since I started selling on Amazon, I would randomly get emails notifying me that some ASINs I am selling were recently updated. For my first few months of selling on Amazon, I just ignored these emails and thought I had better things to do. I assumed innocently that these ASIN changes were probably just improvements to the product page, and that I didn't need to investigate. Boy, was I naive and wrong. I quickly learned that there are many profitable action points that I need to do every time I get one of these emails.
Most of the time when an ASIN is updated, it means that someone is trying to improve the ASIN's product page listing information. Maybe some good keywords were added, or the item had some additional information added that would help increase sales. I would say that 95% of the time, this is true, but the other 5% of the time, the changes actually hurt the item page and could also hurt you as a seller. Whether the changes come from a malicious and deceitful Amazon seller or just a newbie that doesn't know any better, these changes must be checked in order to protect you, your seller metrics, and your bottom line. I'll explain more of this below as I give you the top 5 things I check every time I get an ASIN change notification email from Amazon.
1. Product Title – I think I've seen it all… I've seen product titles that were one word long and some that were paragraphs long. I've seen them contain spelling mistakes and written in other languages. I've seen product titles that tried to contain HTML and others that were not even talking about the item that was pictured. The product title is one of the most important pieces of information that Amazon uses to help buyers find what they want (especially the first 3 words of the title). So it's vital that the updated title be accurate, spelled correctly, and contain a few additional keywords.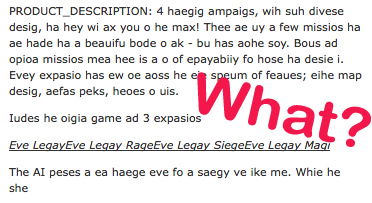 2. Product Description – Unfortunately, some people don't know what they are talking about and really make a mess of the product descriptions. I've had an item in my inventory where someone added to the description that it was a 4-pack, when in reality it was one toy that contained 4 parts to the toy. This is not a 4-pack. A 4-pack is when there are 4 copies of the same item. To make things even worse, sometimes some sellers actually do change a product from being one item to being a multi-pack. This change could really be bad if you start selling an item that is a 1-pack, but then someone else updates it to a 6-pack. You could have a really upset buyer leave nasty feedback for you if they only receive one item when they are expecting a 6-pack.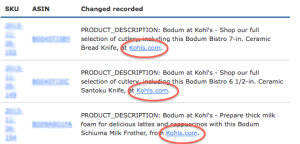 Other sellers sometimes are doing mass updates and accidentally cut and paste info from one item and paste it on the wrong item. I've also seen when someone puts an external link in a product description to buy that item on another website. These external links are against Amazon's rules! Not only that, but they are taking sales away from you.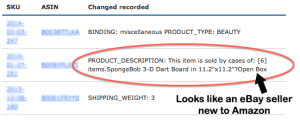 Like I said, some people who are trying to update the product pages are newbies. Most new Amazon sellers are coming over from eBay and assume that if they need to state something specific about their particular item, they need to update the product page, when in reality they just need to make note of what they want shared in their condition notes.
3. Product Type – Most of these updates are in reference to category changes within the Amazon catalog. Again, it's so important that each item be placed in the correct category. Some Amazon sellers will try to sneak certain items in the wrong category because they are gated in the correct category. For example, someone might not be approved to sell in clothing (a gated category that requires approval to sell), so they try to change the category to toys, books, or another category that they are already approved to sell in.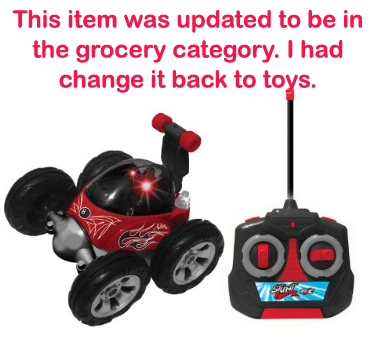 On the other hand, some people try to game the system by getting products changed to be in gated categories. For example, if one seller is approved to sell in shoes, then maybe they'll try to get that toy to be moved to the shoe category, so that there will be fewer sellers approved to be the competition for that item. It's sneaky and wrong, but people do it. Ultimately, you want these items to be in the correct category. When an item is in the right category, then it's more easily found by buyers who are searching for it.
4. Product Key Words – Some Amazon sellers have thought that adding unrelated key words would boost their product in the search rankings. Unfortunately, this not what you want. You want the item to have the best key words that actually relate to the item. Some people even add lines to the product description that could get that item completely removed from Amazon. I once saw a grocery item that had the keyword "e-cigs" added, and those are not even allowed to be sold on Amazon.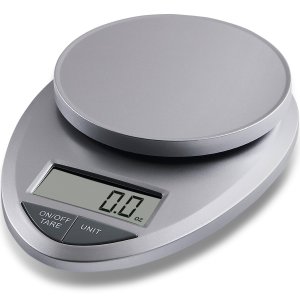 5. Shipping Weight – Most of the time, the updated shipping weights come from Amazon themselves, but other times they are changed by a seller who sells merchant fulfilled items from home. The higher the shipping weight is, the more money they can make from shipping costs. For example: If Amazon thinks it should cost $6.00 to ship a one pound item, but the item actually only weights 8 ounces, then the merchant fulfilled shipper gets $6.00 to mail something that should only cost them $3.00. How does this effect an FBA seller? If someone is not a Prime buyer and buys your item, then it's possible that they could be overpaying for shipping and therefore become an unhappy customer who is ready to leave you negative feedback.
Note: To check on your inventory items, simply follow the link in the ASIN Change Notification email that states: "Click here to vote to disagree with the decision to make the ASIN detail page changes below."
When you click on this link, Amazon will take you to a page telling you what items are being updated, what the new details are, and what the previous details were. You then have the option to disagree with the update. If you agree with the changes, all you need to do is scroll down and click "Nothing to disagree." On the other hand, if you do disagree, then you can click "disagree" on the items you think do not need to be updated. You then have the option to express why you disagree. Remember to keep your response short, as to not confuse the Amazon worker who is responding to all of these ASIN change disagreement notifications. After you explain your reason for disagreeing, you can then scroll down and click "Submit Votes."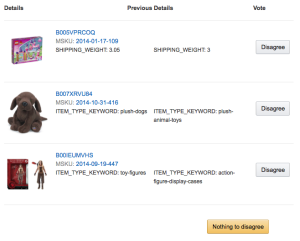 It can be somewhat time consuming to check on each of these items one by one to verify that the changes are accurate, but in the end it will be worth it to protect your seller metrics and ultimately your bottom line.
If you notice something is incorrect or just flat out wrong, then vote "Disagree" and tell Amazon what you think the correct details of that product should be.
Some of you may have turned this notification off in your Seller Central preferences. If you want to protect your inventory and bottom line, I suggest turning the notifications back on.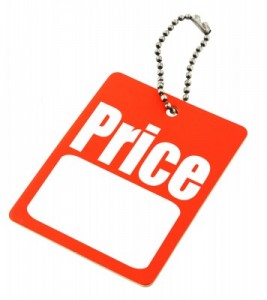 BONUS TIP – When ASINs are updated, it often means that someone new is selling the item and that you now have additional competition. It's likely that they are updating the ASIN because they have multiple copies of that product in stock. When the ASIN is updated, it's probably a good idea to go and check your competition and make sure your item is priced competitively. For more on repricing your inventory, click here.
So how about you? What crazy ASIN updates have you seen? Do you have any additional tips on how to make the most of the ASIN Change Notification emails? I'd love to hear your thoughts in the comments below.
***********************
Imagine knowing exactly what to expect in your Amazon FBA business every month of the year.
Imagine what it would feel like knowing you were not missing out on any of the opportunities that will come your way this year.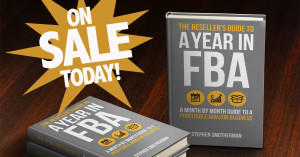 Imagine working on your Amazon business knowing exactly what your priorities are, what you need to avoid, and what you need to accomplish during each month to make progress toward making this year your best sales year ever.
Find out more about The Reseller's Guide to a Year in FBA: A Month by Month Guide to a Profitable Amazon Business today. The package includes a 200-page ebook, monthly live webinars, and 4 special bonuses.