Balancing Family Life With Your Online Business
Ebook Plus 5 Bonuses
Working from home can be hard – especially on your family
For many resellers, working from home is a dream come true. No more commuting to work in rush-hour traffic. No more horrible bosses not appreciating your work (or worse, taking credit for it all). No more annoying co-workers who suck away your time and energy.
With working from home, you're finally your own boss. You get to set your own work hours, and for some of you, even work in your pajamas all day.
What could possibly go wrong? Plenty. 
Does any of this look familiar?
My spouse thinks I'm wasting my time and that I should get a "real" job.
My husband wants to join the business, but how can I train him when I'm already so impatient with him?
I know my family should be my main priority, but how do I do that without neglecting my business?
How can a single parent find balance with her kids and with working at home?
My spouse and I already argue over money issues, won't business finances make it even worse?
My husband doesn't understand that I need to reinvest my profits. How can I get him to understand?
I want to spend more time with my kids. How can I get them involved in the business without making it a liability?
My husband wants nothing to do with my reselling business. How can I help him understand?
Is there a solution? 
We've all been there in some way or another. There are times at home when you need to be working, but your spouse or kids are demanding your attention. You don't want to ignore them, but sometimes it could really interfere with the work that needs to get done. And the opposite is true as well. Sometimes we can get so caught up in the life of a reseller that we begin to neglect the people we love most, who are often in the next room wondering when we're going to take a break and spend some time with them.
Married to Reselling can help! 
Here's what you get: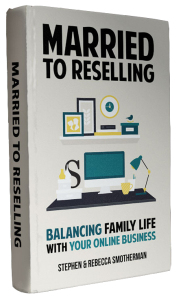 Married to Reselling (updated 2017 edition) ebook – In Married to Reselling, my wife Rebecca and I will walk with you through ways we can all find success in balancing our time with family while working from home. We'll tackle both the business and personal sides of life as a reseller, and we'll help you explore a system that works best for you and your family. Most likely, your spouse and/or kids don't really understand this whole "online business" thing you're spending your time on. In this book, we'll discuss how to improve their understanding as well as how to enhance your relationship with your spouse and your kids in regards to working from home. The book is 88 pages and includes 10 chapters. 
Scroll inside the box below to check out the table of contents:
Married to Reselling
Table of Contents
Chapter 1 – Introduction: The Priority of Relationships
Chapter 2 – The Reselling Spectrum and How it Affects our Relationships
Chapter 3 – Work vs Hobby: In Your Eyes & Your Spouse's
Chapter 4: Budgeting: A Way to Improve Your Business and Your Marriage
Chapter 5: When and If Your Spouse Joins Your Business
Chapter 6: Understanding Each Other's Risk Tolerance
Chapter 7: Establishing Boundaries
Chapter 8: Reselling With Your Kids
Chapter 9: Single and Reselling
Chapter 10: Conclusion
Appendix 1: A Message For the Non-Reselling Spouse
Appendix 2: Resources and Links
PLUS 5 FREE BONUSES! See directly below this box for more info about the valuable bonuses!

Get the Married to Reselling book today, and you get 5 bonus gifts at no extra charge. Check out these bonuses: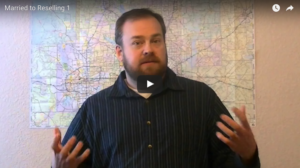 Bonus #1 – Five Ways to Balance Married Life with Your Online Business (Video) – Working from home can cause a lot of conflict, but it doesn't always have to be that way. In this video, I'll walk you through five strategies to balance married life with your online business. When it comes to successfully balancing family and work, you need to be intentional.  This video will help you with some ideas on how to find that balance and keep it.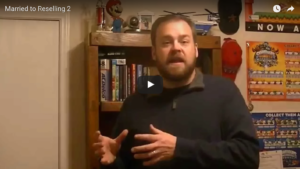 Bonus #2 – Six Ways to Work at Home and Still be a Great Parent (Video) – When we're working from home, sometimes it's the kids who are the easiest to ignore. Or, maybe they are bothering you all the time seeking the attention that you need to give to your online business. In this video, I'll introduce you to six ways to get things done with your home business, while still being a great parent. I'll even show you some easy ways to involve your kids in your online business so that everyone can spend some quality time together.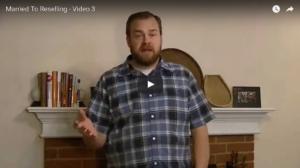 Bonus #3 – Seven Keys to Working Successfully With Your Spouse as a Reseller (Video) – Whether your spouse works with you in your online business or they don't have a clue about what do you, this video will help you both in in your journey to a healthy work/life relationship.  There was a time when my wife didn't do anything in my online business, but now she does just as much (if not more) than I do. It's no longer my online business… it's ours! In this video, I'll share with you some of the ways Rebecca and I have found to successfully work together in our Amazon FBA business.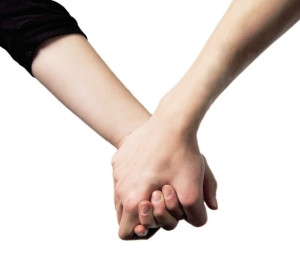 Bonus #4 – The Relationship Builder – 19 activity ideas for you to experience with your spouse or good friends to help build a closer relationship. This list also includes 6 romantic date ideas. My wife and I are both very frugal, so these ideas don't cost that much at all.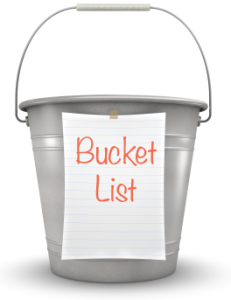 Bonus #5 – Sample Bucket List – This bonus helps you create new memories with your family. When you make a summer bucket list, you partner with your kids to come up with fun activities and potential memories. You can alter the list to be a spring break bucket list or a bucket list for the new year. This bonus gets you started on making this fun list of things to do with your kids.

How much is work/life balance worth to you?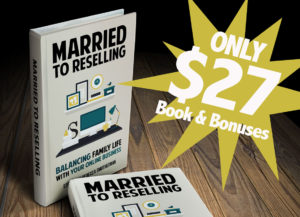 Married to Reselling is priced at $40, but right now, you can get the ebook and all 5 bonuses for only $27.
Married to Reselling is 88 pages filled with everything we know about how to balance your family with your Amazon business. Plus, when you get the book, you'll be automatically enrolled into the lifetime ownership program. This means that every time we update the book, you'll get the updated versions and any new bonuses for free. Not only that, but we offer a 60-day 100% refund policy… so you have nothing to lose.