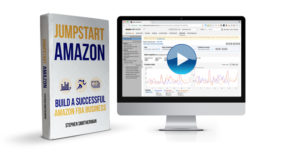 JumpStart Amazon

Build a Successful Amazon FBA Business
Since 2012, I've been able to make a full-time income by only spending part-time hours selling quality merchandise on Amazon… and you can too!
Selling on Amazon can be a great way to build up an income that can help you reach your long-term goals like supporting your family, paying off your debts, and saving for retirement. In about 6 to 7 months after I started selling on Amazon, I was already making a full-time income to support myself and my family, and my sales have grown every year since.
The best part of selling on Amazon is that Amazon does most of the work for you! You find the inventory, send it to Amazon, and let Amazon do all of the inventory storage, selling, packing, shipping, and customer service for you.
Now, don't misunderstand me and think this is some get-rich-quick scheme. While it's totally possible to start making a full-time income on Amazon in less than a year, it's still hard work. There is so much to learn in order to build a successful Amazon business from the start. It all comes down to building the right foundation – and that's why I created JumpStart Amazon.
What You Can Expect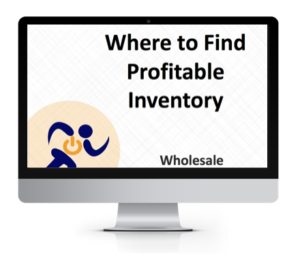 JumpStart Amazon is a combination video course and ebook. The content in both the book and videos is almost identical, so you can decide which way you would like to learn best – watching or reading.
The ebook is over 220 pages filled with the content and graphics you need to start a successful Amazon business from scratch. Written in an easy to understand voice with no fluff, the ebook is packed with more results-focused knowledge than any other ebook out there centered around starting an Amazon business.
The video course features 5 main sections, 19 content-packed modules, and over 40 videos adding up to over 10 and a half hours of video training. This training is set up to help you build a solid foundation and then know how to find growth and success on top of the basics. If you want more details, then check out the course breakdown below.
Scroll inside the box below to check out the table of contents:
JumpStart Amazon:
Build a Successful Amazon FBA Business
Table of Contents
SECTION 1 – Building the Foundation
Chapter 1 – Introduction (page 4)
Living the Dream!
About Stephen Smotherman
What to Expect
How to Get the Most From This Course
Chapter 2 – Why Sell on Amazon (page 10)
Amazon FBA
Inside an FBA Warehouse
Growth of Amazon and Amazon Prime
Outsourcing and Growth Potential
Chapter 3 – Amazon Success Essentials (page 17)
Start With Why
Goal Setting
The Power of Focus
The Marathon Mindset
Chapter 4 – Arbitrage Basics (page 25)
What is Arbitrage?
Arbitrage Strategies for Amazon
Tools to Find Profitable Inventory
Where to Find Profitable Inventory
Chapter 5 – Business Basics (page 35)
Business vs Hobby
LLC, S-Corp, Sole Proprietorship?
Know Your Numbers
Chapter 6 – Opening Your Seller Account (page 45)
Chapter 7 – Understanding Amazon (page 54)
The Amazon Guidelines
The Buy Box
What Can I Sell?
Sales Rank (aka Amazon Best Sellers Rank)
Item Conditions
SECTION 2 – Building Up Your Inventory
Chapter 8 – How to Find Profitable Inventory (page 87)
Sourcing Apps
Sourcing Decisions
Intro to CamelCamelCamel
Intro to Keepa
Understanding Sales Tax
Chapter 9 – Where to Find Profitable Inventory (page 112)
Garage Sales & Thrift Stores
Retail Arbitrage
Online Arbitrage
Wholesale
Other Strategies
The Abundance Mentality
Chapter 10 – Sending in Your First Shipment (page 155)
Inventory Prep
Listing on Seller Central
Listing on InventoryLab
Packing and Shipping to Amazon
Chapter 11 – How to Price Your Inventory For Profitable Sales (page 166)
Understanding Supply and Demand on Amazon
Simple and Advanced Pricing Strategies
Competing Against Amazon
Repricing
SECTION 3 – Understanding The Framework
Chapter 12 – Basics of Seller Central (page 174)
Seller Central Overview
How to Open a Help Ticket with Amazon
How to Use the FBA Calculator
How to Create a Removal Order
Chapter 13 – Your First Amazon Disbursement (page 175)
Expectations
Paying Yourself vs Reinvesting into Inventory
SECTION 4 – Troubleshooting
Chapter 14 – Customer Feedback (page 181)
Feedback Expectaions
How to Remove Negative Feedback
How to Increase Positive Feedback
Chapter 15 – Dealing with Returns (page 191)
Returns 101
Understanding the Returns Report
Getting Reimbursed for Items Not Returned
Chapter 16 – Selling Slow Moving Inventory (page 200)
Understanding Storage Fees
Sales Strategies
Understanding Long-Term Storage Fees
Avoiding Long-Term Storage Fees
Chapter 17 – Protecting Your Amazon Seller Account (page 207)
Proactive Strategies
Preventing an Account Suspension
SECTION 5 – Your Next Steps
Chapter 18 – How to Know What to do Next (page 213)
Chapter 19 – Final Thoughts (page 217)
Appendix 1 – Recommended Reading (page 222)
What You Will Accomplish
In JumpStart Amazon, you will know exactly, step-by-step, how to build up a successful Amazon FBA business from scratch. From setting up your seller account to finding profitable inventory to knowing how to best use your profits, I'll show you the proven strategies for how to start your Amazon FBA business off on the right foot.
After you experience JumpStart Amazon, you'll be able to:
Understand multiple proven strategies to find profitable inventory that sells quickly on Amazon

Know the right steps that will help make your first Amazon paycheck a big one

Plan out how to wisely use your first Amazon paycheck

Create a mindset that will cause your Amazon FBA business to succeed not only this year, but for many years to come

Easily decipher the most misunderstood aspect of selling on Amazon

Decide which business set-up is best for you: a sole proprietorship, LLC, S-Corp, or something else  

Recognize the right inventory items to sell and which ones you should avoid

Know how to ramp up your feedback scores from the beginning and how that will you lead toward more sales and profits

Plan the perfect time to start your Amazon business so that you're set up for a strong and profitable start

Know the biggest problem with sourcing inventory (and how to overcome it)

Handle sales tax on Amazon without breaking a sweat

Create a successful first shipment of inventory to Amazon

Price your products for fast sales and maximum profits

Know the ins and outs of Seller Central (Amazon's seller portal from which you can manage aspects of your business such as inventory, pricing, orders, performance analysis, and more)

Create an action plan to reduce customer returns and how to best deal with the returns you can't avoid

Know the strategies to have your products sell more often than your competition

and so much more!
Free Teaser Lesson#1 – Intro to JumpStart Amazon
Free Teaser Lesson #2 – Why Amazon?
How much is it worth to you to start off right?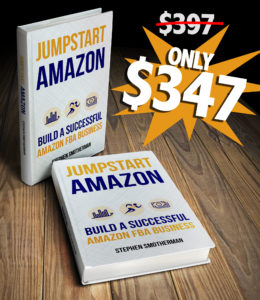 JumpStart Amazon is a one-time charge of only $347 (but that price will only be this low for a limited time). With a 220+ page ebook, 40+ videos, as well as 4 amazing bonuses, this guide is a bargain when you think about the time and money you will save (and earn!) by starting your Amazon business the right way.
Imagine knowing exactly what to do – step by step – in order to start a successful Amazon FBA business…
Imagine being able to skip over the common mistakes that other new Amazon sellers experience all the time…  
Imagine the financial freedom that comes with becoming your own boss! This course is filled with everything you need to know about how to start a strong, solid, and successful Amazon FBA business – from the ground up.  

Bonus Material – Not only do you get the JumpStart Amazon ebook and video course, but you also get these four valuable bonuses at no extra charge. These bonuses will help enhance your JumpStart Amazon learning experience and provide the action steps you need to get started off on the right foot.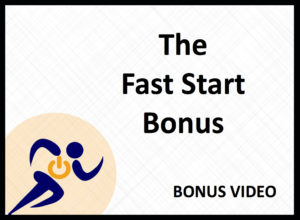 The Fast Start Bonus Video – Two weeks after you open your Amazon account, you'll get your very first "paycheck" from Amazon. In this 21 minute bonus video, I'll show you the best way to insure that your first payment from Amazon will be a nice big one! I'll show you exactly what to do both before and after you open your Amazon account to insure that you not only start fast, but also start strong! This strategy will create some solid momentum that will lead you to consistent Amazon sales and profits.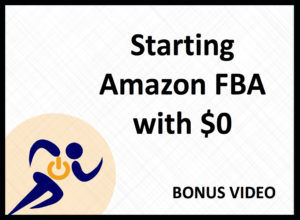 Starting Amazon FBA with $0 Video – So you know that it's possible to make some good money selling online via Amazon FBA, but you just don't have the spare funds to start paying for inventory to sell. This 17 minute bonus video will help walk you through proven methods on how to get both free and low cost inventory items to sell on Amazon. I'll also show you how to build up capital so you can use it to grow your new Amazon FBA business toward growth and success.
How to Calculate ROI and Profit Margin Percentages PDF – Part of knowing your numbers in your Amazon business is to know the return on investment (ROI) or profit margin you are making on your inventory items. You can look at the ROI or profit margin for individual items or for your entire inventory. In this PDF, I'll show you how to do a simple calculation that can be applied to either individual items or a group of items.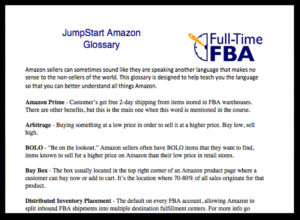 JumpStart Amazon Glossary PDF – Amazon sellers can sometimes sound like they are speaking another language that makes no sense to the non-sellers of the world. Arbitrage? BOLOs? Prime? Replens? Scouting? This glossary is designed to help teach you the language so that you can better understand all things Amazon. Just like Amazon, this PDF glossary will cover all things A to Z.
Who is Stephen Smotherman? 
I'm Stephen Smotherman, and since 2012 I've been making a full-time income (working only part-time hours) selling via Fulfillment by Amazon. With my FBA income, I'm able to work from home and be my own boss, as well as support my wife and four boys. I truly love helping people achieve financial freedom, so I decided to share all of my best strategies for starting and sustaining a successful Amazon FBA business. In this course, you'll get the exact step-by-step strategies that my coaching students would pay $300 an hour for me to teach them. But you don't have to spend thousands of dollars to learn the right way to start an Amazon FBA business. Instead, you can get it all in this 10+ hour course for only one payment of $347.
Customer Testimonials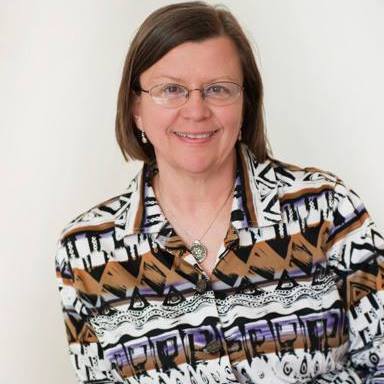 "JumpStart Amazon helped me get set up quickly. The course was a step by step system to ensure that I began my journey with success in mind. Simple to follow directions plus more than enough background information into Amazon selling helped me understand why I was doing the work. The worksheets were helpful in digging deep into my WHY, understanding how to pay myself, and how to calculate the return on investment. The videos were great but the ebook was helpful as well – that allowed me to print them off – mark and highlight what I needed to do.
JumpStart Amazon helped me finally understand how to successfully sell via FBA. I could offer products, send them to Amazon and take a day off to see my grandchildren and not worry about rushing home to fulfill any orders.  I really like Stephen's teaching style and methods. Offering both video and written instructions that I could refer back to FOREVER!
This was my first quarter to sell on Amazon, and I've been able to find merchandise, make a profit, and continually return to the wisdom pearls I have found in JumpStart! This course has helped me to have money to put aside to help my son who is autistic." – Julie Jones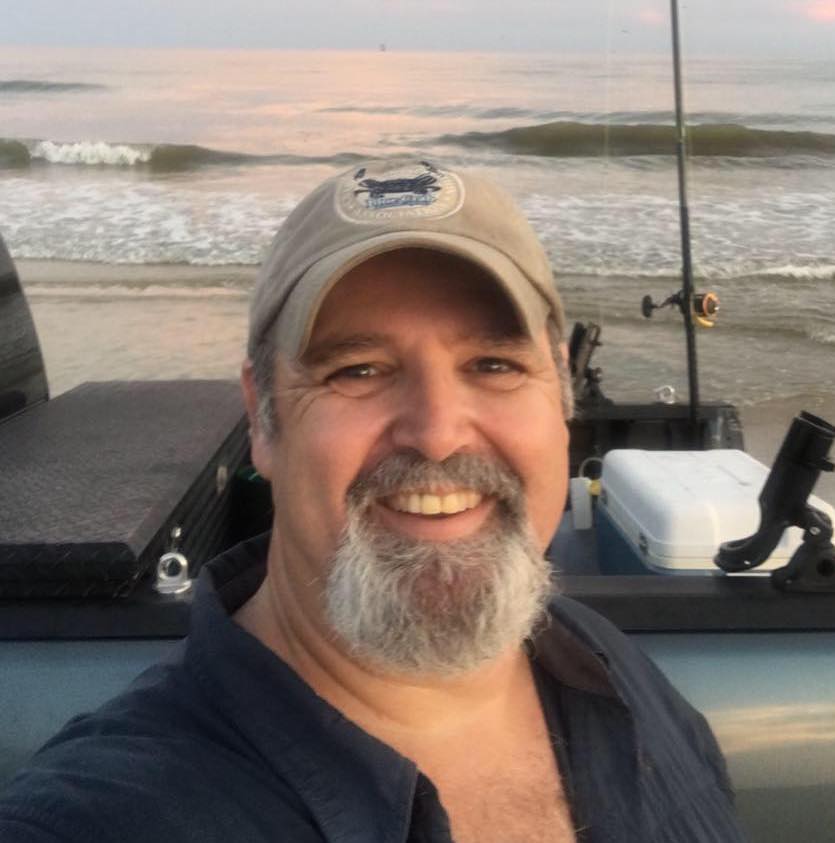 "Selling on Amazon seemed like an awesome opportunity so I started looking for information on how to get started and I soon found Stephen Smotherman. His values and ethics aligned with my own, and I felt very comfortable choosing him as a mentor to start my amazing Amazon journey. I purchased JumpStart Amazon and studied all the material, then took action. I had my first sale the same day my inventory went live, and I know that was due to the guidance of JSA. My business now has the foundation needed to be a major success and is growing every day.
All of the material included in the course was very helpful, but I have to say that the finding your why section was especially helpful. I encountered several obstacles along the way and discovering my why has made all of them a piece of cake. I continue to look to Stephen as a mentor, and my business is better for it." – Michael Riley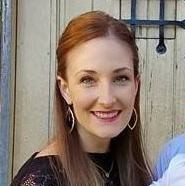 "Before finding JumpStart Amazon, I got really frustrated trying to find a way to make money online. When I found this course everything changed. I started watching the videos and immediately started to take action. The videos are easy to understand and Stephen takes you through step-by-step what you need to do and why. Since completing the course, I've been able to build up a good amount of inventory and I'm making sales often! I can definitely see this as a great way to make good money online." – Erica Flowers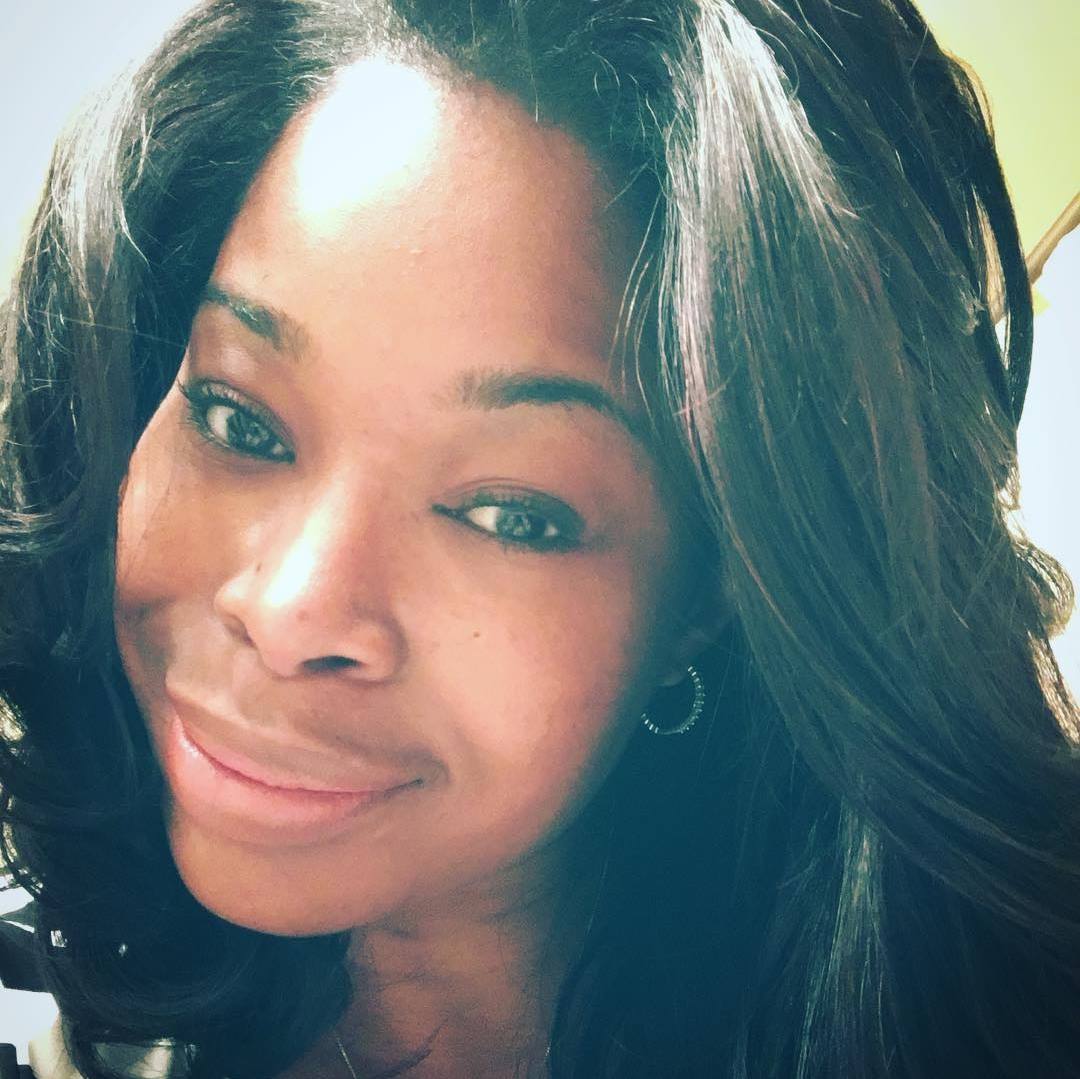 "So far, from what I have seen, this course are a godsend!!!! I learn better via books than videos, so I was happy you also had a pdf book version of the course. I downloaded the book and quickly began reading through it. I am so thankful for the information that you presented in the book. I'm so much more confident now to grow my Amazon business. Everything you shared was in a simple, easy to read and understand format – and that is a blessing. Nowhere else have I seen such comprehensive training relevant to selling on Amazon available in a written format. Thank you so much for this course!" – Doris Graessle
By clicking the "Get Access Now" button above, you'll be directed to the payment page. Once payment is complete, you will be forwarded to the download page and have instant access to the entire course (book and videos). You'll also be enrolled in the lifetime ownership program. This means any time we update this course, you'll get the latest updated version and any new bonuses for FREE!
100% Money Back Guarantee!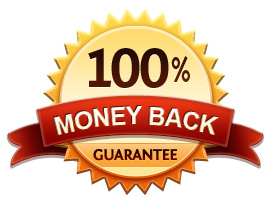 This book comes with my 100% Money Back Guarantee. If you don't feel like this book adds value to your current online selling business, simply ask for a refund within 60 days of purchase, and you'll get 100% of your money refunded. No questions asked. Seriously! All you need to do is send me an email, ask for a refund, and you'll get it. Remember, you have 60 days to read the book, watch the videos, apply what you've learned, and see how things turn out… so you have nothing to lose.

If you're ready to start building up your Amazon FBA business the right way and set yourself up for success, then grab the JumpStart Amazon course today!