If you sell on Amazon and want to take your online business to the next level, then take a look at what we have to offer. I'm confident that our products will not only help you make more profits, but will save you time and money as well. All of our products come with a money back guarantee, so you can buy with confidence.
JumpStart Amazon: Build a Successful Amazon FBA Business
Since 2012, I've been able to make a full-time income by only spending part-time hours selling quality merchandise on Amazon… and you can too! Instead of spending thousands of dollars for me to coach you into an Amazon business, I've instead created an affordable course that will teach you everything you need to know.
JumpStart Amazon is a combination video course (10+ hours) and ebook (200+ pages). The content in both the book and videos is almost identical, so you can decide which way you would like to learn best – watching or reading. The ebook and video course are both filled with the content and strategies you need to start a successful Amazon business from scratch. This course is set up to help you build a solid foundation and then know how to find growth and success on top of the basics. This course is the best place to start building a profitable Amazon FBA business. Find out more here.
The Reseller's Guide to How to Keepa Camel: Using Amazon Sales History to Make Smart Sourcing Decisions
Have you ever wondered what it would be like to buy inventory that almost always sells quickly? Do you ever get frustrated because it seems like by the time your inventory arrives at Amazon, your competition has "tanked" the price and you're not able to sell your inventory at the prices you wanted? If it seems like your Amazon sourcing is more of a gamble than a sure thing, then this course is for you. 
How to Keepa Camel is a full course featuring 130+ page book and over 4 hours of video content that will walk you through the free resources Keepa and CamelCamelCamel. These resources record vital pricing and sales rank history of almost every item sold on Amazon. When you can properly read a Keepa or CamelCamelCamel graph, then you can use the history to make well informed predictions about the future of prices and sales. With this knowledge you can make the best sourcing decision possible. Find out more here.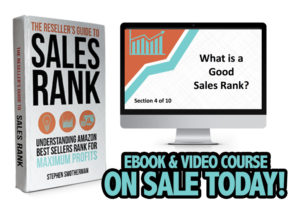 The Reseller's Guide to Sales Rank: Understanding Amazon Best Sellers Rank for Maximum Profits
Amazon sales rank is easily one of the most complicated and misunderstood aspects of selling online. Too many Amazon sellers assume if an item on Amazon has a certain "good" sales rank, it will automatically sell quickly. This assumption falls apart when the seller realizes most their inventory is not selling at all, and to make things worse the prices of their inventory items have tanked.
This mini-course is a combination ebook and video course that will walk you through how to best understand and interpret sales rank numbers on Amazon. The book is over 30 pages filled with teachings and illustrations that will help you understand not only how sales rank works, but also how to best use sales rank info to dramatically improve your inventory sourcing buys. The video course contains about 2 hours of content where you can see every aspect of sales rank explained in detail. Find out more here.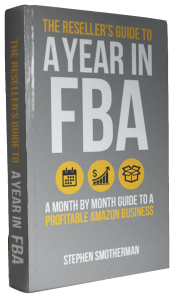 The Reseller's Guide to a Year in FBA: A Month by Month Guide to a Profitable Amazon Business
Update for 2018 coming soon! This book is over 200 pages jam-packed with tips, resources, and strategies that will help you have your best Amazon FBA year ever. The book also includes 12 monthly focused hour-long training videos with the most time-sensitive and actionable content. 
This book and training videos will cover, month by month, exactly what to expect and what you need to prepare for when it comes to maximizing your Amazon FBA profits. Don't get left behind on the countless opportunities to grow your Amazon business to the next level. From January to December, The Reseller's Guide to a Year in FBA will help you stay ahead of the game!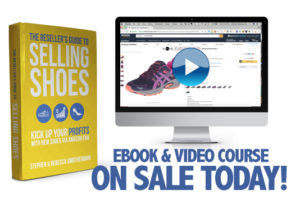 The Reseller's Guide to Selling Shoes: Kick Up Your Profits With New Shoes via Amazon FBA
What would your Amazon business look like if your average selling price (ASP) was $75? How much larger would your disbursements be if you were selling higher priced items like shoes? If you're ready to kick up your profits with selling new shoes via Amazon FBA, then this course is for you!
Selling Shoes is a full course featuring 100+ page ebook and over 4.5 hours of video content that will walk you through how to start selling shoes on Amazon. From getting ungated in the Shoes category, finding multiple sources for profitable shoes, properly prepping & pricing shoes, to how to deal with returns (it's super simple), this course teaches you how to become a shoe selling expect. Find out more here.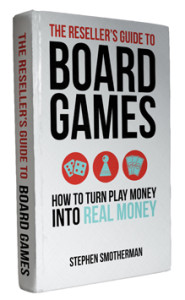 The Reseller's Guide to Board Games: How to Turn Play Money into Real Money
I want to show you just how easy it is to make hundreds of dollars a week selling new and used board games. Selling board games is a great niche to add to your online selling business. Whether you sell on eBay or Amazon, board games can be very profitable, but only if you know what you're doing. I find so many board games to sell that I don't mind sharing with you all of my secrets. 
Board games are everywhere. You just need to know where to look to find them. In The Reseller's Guide to Board Games, I'll walk you through the complete process of finding, buying, preparing, and selling board games for maximum profits. You'll learn all the tips and tricks I use to find board games that don't just double or triple my money, but actually can take your initial investment and multiply it exponentially. Find out more here.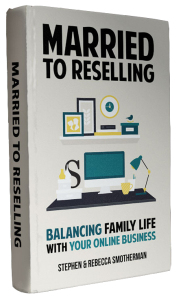 Married to Reselling: Balancing Family Life With Your Online Business
Updated for 2017! Working from home sounds easy, but if you've done it for any amount of time, you know that it can be difficult. There are times at home when you need to be working, but your spouse or kids are demanding your attention. You don't want to ignore them, but sometimes it could really interfere with the work that needs to get done. And the opposite is true as well. Sometimes we can get so caught up in the life of a reseller that we begin to neglect the people we love most, who are often in the next room wondering when we're going to take a break and spend some time with them.
In Married to Reselling, my wife Rebecca and I will walk with you through ways we can all find success in balancing our time with family while working from home. We'll tackle both the business and personal sides of life as a reseller, and we'll help you explore a system that works best for you and your family. This package includes the book plus 5 bonuses (including a free audiobook and videos). Find out more here.
The Reseller's Guide to Black Friday: The Fool-Proof Strategy To Rock Black Friday Sales Every Year*
*Note: The book is not currently available for purchase. The cart will open up again sometime the Fall of 2018. Click here to be sure you are on the mailing list to be notified when the book has been updated and rereleased.
This book was co-written with my friend Kristin Ostrander, and is 40+ pages jam-packed with tips, resources, and strategies that will help you have your most profitable Black Friday ever. There are even three 90-minute training videos included with examples from the 2015, 2016, and 2017 Black Friday ads.
This book covers exactly what to expect, as well as what you need to do to be properly prepared for maximizing your time and profits for shopping Black Friday sales. Both Kristin and I have completely different strategies. She likes to brave the crowds on Black Friday, and I like to stay home… yet we both make a killing taking advantage of Black Friday sales. That's right, you don't even have to shop on Friday to make good money from Black Friday sales. The book offers ideas and strategies for sellers of all kinds. The best plan of action is to be prepared, and The Reseller's Guide to Black Friday will help save you time, money, and energy in knowing exactly what to do.