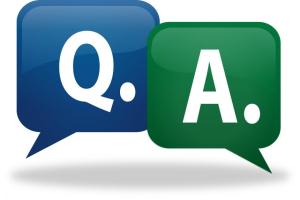 One of the most frequent questions I get in my inbox from Amazon sellers like you is this one:
How can I find out how many items are in an Amazon category?
Before I show you my quick and easy process that I use to find out how many items are in a particular Amazon category, I want to talk about why it's important to know this information.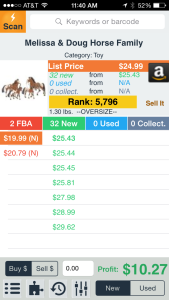 When you're out sourcing for profitable products to sell on Amazon, you're probably looking at two main pieces of information: the item's ROI and its sales rank. Sure, there are other factors that go into whether or not you decide to buy something to sell on Amazon, but those are usually the main two numbers you consider.
The first number we usually look at is the potential ROI of the product. We want to make sure we are going to make money selling this item on Amazon. Not only do we want to make a profit, but we also want to make sure we have some wiggle room in case the price of the item goes down.
The second number we usually look at is the sales rank. This is the number that gives us a glimpse into the potential speed of the item selling. The lower the sales rank number is, the faster it should sell. There are so many different things to think about when looking at sales rank, but most people agree that an item with a sales rank consistently in the top 5% of its category is a potential fast flip. This is not always the case, but for most items and categories, it is.
So, one really smart sourcing tip is to learn the sales ranks of each category and what sales rank numbers are in the top 5% of said category. How do we do this? With simple math.
Number of items in category x .05 = Top 5% of that category.
Ok, here is the simple way I find out how many products Amazon has in their individual categories:
1. Go to
Amazon.com
and choose the category you want to know about.  2. Type the minus or dash symbol immediately followed by a few random letters (yes, really).  3. Click on "Go" or just do a hard return on your keyboard.  4. The results will show you how many items are in that category currently.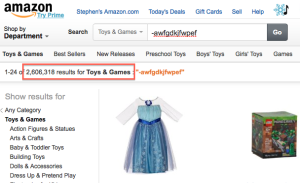 Using this method, I'll show you how I found out how many items are in the Toys and Games category.
1. I went to Amazon and chose the Toys and Games category 2. I typed in "-flksjhdflkjsh" (without quotes) in the search bar.   3. I clicked on "Go." 4. The results showed me that there are currently 2,609,918 items in the Toys and Games category.   
Keep reading, because I have a free download that will save you tons of time… But first, a few more thoughts about Amazon product pages and sales rank.

– The little trick above will only show you the number of items in a particular category that Amazon currently has in stock. If you wanted to include the out of stock items in this equation, you would simply need to scroll down and check "Include Out of Stock" and you will then get the numbers of every item in the Amazon catalog for that category. I don't suggest this because some of the items that are "out of stock" have been out of stock for years and don't need to be included in your overall search. In fact, if you include the out of stock items when looking at the Toys & Games category, the number of items in the catalog jumps from 2.6 million to over 5.1 million.
– Amazon both adds and subtracts items to their catalog daily, so it's probably a good idea to check back from time to time to make sure your numbers are up to date. You don't need to check back daily, but I would suggest looking at the numbers about once a quarter.
– The trick above also works with some of the sub categories. Say you want to find out how many games there are in the toy category. All you'd need to do is the "-jgojfojf" search for Toys, and then click on the sub category of Games on the left side column. By searching today, you would find that there are currently 329,630 games. This might be some good information to know, but if you're using a scouting app like Profit Bandit, the app usually only returns the sale rank for the main categories.
– Different categories have their own personalities. From my experience, in some categories, the top 5% is a good number to aim for, while in other categories, an item near the 5% mark might still take a long time to sell. Other categories I think it's ok to expand to the top 10%… but you only begin to know this over time as you see what sells quickly and what takes a longer time than expected. And don't be afraid of long tail items (items that take a long time to sell, but bring back a return well worth the wait).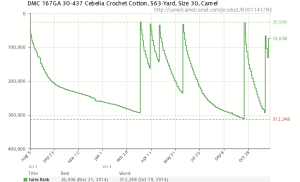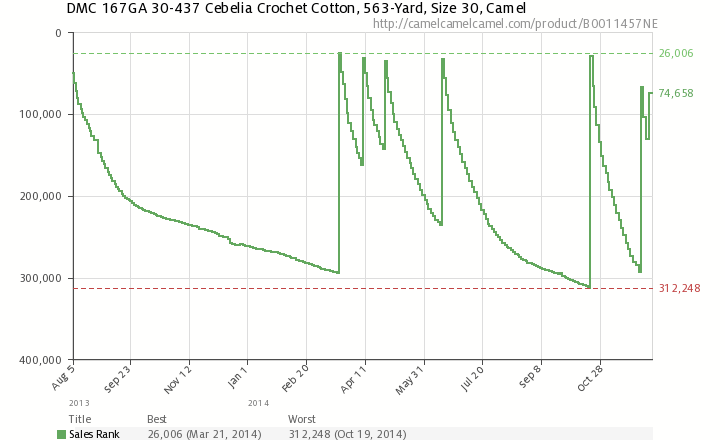 – Sales ranks are fluid… they change many times a day. When you see a sales rank, you're seeing a snapshot of the popularity at that moment. A book might have a sales rank of 4 million one day, and then the day after it sells, the rank could jump all the way to 600,000. That's a huge leap, but one that happens daily. For more of my tips on sales ranks, be sure to check out these blog posts.
FREEBIE!!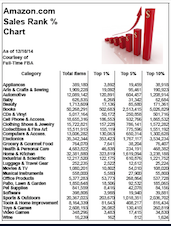 Ok, so now that you know how to find out how many items are in each of Amazon's product categories, and you know the formula for finding which items are in the top 5%, what if I just gave you a free download that gives you all this info for free? Sound good? I'll go a step even further… if you click the image to the right, you can have a FREE PDF emailed to you that contains every main Amazon category broken up into the top 10%, 5%, and top 1%. The data on the PDF is updated every 2 months, so it's the most accurate data around. All you need to do is click the button below and in a few minutes, you'll get your PDF download for free.
Click To Get Your FREE Amazon Sales Rank PDF
After you grab your free PDF, then it's your turn… Go to Amazon, pick a random category, and use my little trick above.  I'd love if you'd comment below how many products are currently in that category. Ready? Set… Go!