We are so excited to announce our latest book, The Reseller's Guide to How to Keepa Camel: Using Amazon Sales History to Make Smart Sourcing Decisions. The book will be ready in April, but we're too excited to keep it a secret any longer.
How to Keepa Camel will come in book format (134 pages) and will also come with an in-depth video companion course (34 modules) so you can get the same information via text or video. We'll walk you through how to understand the basics of Keepa and CamelCamelCamel and how the data they provide can help you find better inventory and earn higher disbursements every month. This course won't just stop with the basics, as we'll also teach you some amazing advanced strategies to use Keepa and CamelCamelCamel to make more sales and find inventory that won't always "tank" in price.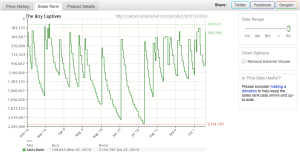 So many people have told me that when they look at a CamelCamelCamel or Keepa graph, it just looks like some geometry mumbo jumbo… others have told me that it looks like a lie-detector test. If this is you, and you're looking for a course to train you on the basics and the advanced strategies for Keepa and CamelCamelCamel, then this course is for you.
If you're subscribed to this blog, you'll get a special coupon code that will save you $10 off the cost of the course. We'll share more about this book in the weeks ahead. If you're not subscribed to the blog… then what are you waiting for? Scroll up and enter your name and email in the form at the top right of this screen.
We have so much to share with you about Keepa and CamelCamelCamel, and can't wait to share it… but before we do, I'd love to know what kind of questions you have about Keepa or CamelCamelCamel. Feel free to ask them in the comments below. This way, the How to Keepa Camel course will be even better, thanks to you!